PUNJAB
HARYANA
JAMMU & KASHMIR
HIMACHAL
REGIONAL BRIEFS
NATION
OPINIONS
LETTERS
BUSINESS
SPORTS
WORLD
Sunday, June 27, 2010, Chandigarh, India
Updated at 3:00 am (IST)

India, Pak take a leap of faith
Pak's FIA to work with CBI to probe 26/11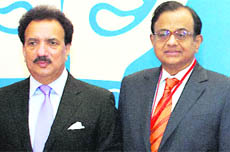 India and Pakistan today took a significant step aimed at normalising relations and reducing nerve-sapping tensions on both sides of the 63-year-old divide that has seen four wars.
Rehman Malik and P Chidambaram at the SAARC Home Ministers' conference in Islamabad on Saturday. — AP/PTI

Tricolour flip-flop

World page: Tackling Terror: SAARC nations pledge coordinated action

CAST YOUR VOTE
Should Warren Anderson be extradited?

EDUCATION
JOBS & CAREERS
HEALTH & FITNESS
SCIENCE & TECHNOLOGY
REAL ESTATE
SPORTS & WELLNESS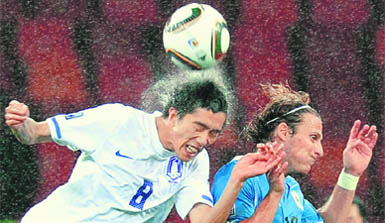 South Korea's midfielder Kim Jung-Woo (L) heads the ball ahead of Uruguay's striker Diego Forlan during their pre-quarterfinal tie in Port Elizabeth. Uruguay won the match 2-1 to reach the World Cup quarterfinals for the first time in 40 years. — AFP

Pak offers corridor for Sikh pilgrims to Kartarpur Sahib
Islamabad, June 26
Pakistan has offered to set up a special corridor for Sikh pilgrims to visit the sacred Gurdwara Kartarpur Sahib, 3 km from the international border.
Won't review Sikh blacklist: Govt
Varinder Walia
Editor, Punjabi Tribune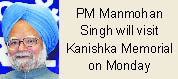 Toronto, June 26
Tremendous pressure from the Sikh community notwithstanding, India today said it won't review the 'blacklist' of radicals, who had taken political asylum in foreign countries, including Canada.
UNION BUDGET 2010-11
RAILWAY BUDGET
2010-11
NDA 60 Glorious Years
1857 The First Challenge
E - Revolution 2005:
A Two-day IT conclave
Assembly Elections - 2005
Turbans
Chandigarh is 50
125 Years of The Tribune
India: The Tasks Ahead
India at Sixty
A Tribune Supplement
EARLIER FEATURES
On Sundays
On Saturdays
Govt clarifies stand on Sikh blacklist


June 27


New Delhi: The government today issued a clarification on the issue of reviewing the 'blacklist' of radical Sikhs, who had indulged in anti-India activities and taken political asylum in foreign countries. The matter was being reviewed by the government and the Ministry of External Affairs and the Home Ministry were in touch on the subject, said official sources. — TNS
Pak man with 26/11 'link' held in Zimbabwe
Johannesburg, June 26
A Pakistani national suspected to be linked to the 2008 Mumbai terror attacks, was nabbed in Zimbabwe while attempting to enter South Africa, raising fears that terror groups could be trying to target the FIFA World Cup underway here.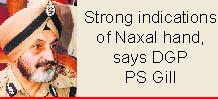 Naxals 'fuelled' Ludhiana arson
Ludhiana, June 26
The migrant violence in Ludhiana, that shook the entire state in December last, could have been fuelled by Naxalites. (Details on Punjab page)


US team owes its rise to Allahabad-born Sunil Gulati
Indian whips up football frenzy in baseball bastion
Washington, June 26
The American football team's success in the World Cup has an Indian connection. Sunil Gulati, an Indian-American native of Allahabad, who currently heads the United States Soccer Federation (USSF), is being credited with the team's rise.
A big hole in your pocket
June 26, 2010

Cordiality returns
June 25, 2010
India to talk tough with Pak
June 24, 2010
Shahzad pleads guilty
June 23, 2010
Rs 1,500 crore package for Bhopal victims
June 22, 2010
Govt keen to soften Armed Forces Special Powers Act
June 21, 2010
Nitish returns Gujarat's Kosi relief donation
June 20, 2010
Now, joint engg, medical test
June 19, 2010
Canada govt blamed for Kanishka crash
June 18, 2010
Costly power shocks Punjab industry
June 17, 2010