PUNJAB
HARYANA
JAMMU & KASHMIR
HIMACHAL
REGIONAL BRIEFS
NATION
OPINIONS
LETTERS
BUSINESS
SPORTS
WORLD
Thursday, July 1, 2010, Chandigarh, India
Updated at 3:00 am (IST)

PC sees Lashkar hand in Valley
l SMS blocked in Jammu as well l Amarnath Yatra begins, vehicles carrying pilgrims attacked; govt assures safety


New Delhi, June 30
Elements fomenting trouble in Kashmir are linked to Pakistan-based terror outfit Lashkar-e-Taiba, asserted the Union Home Minister P Chidambaram here today even as the situation in the valley continued to be tense.
Feeling the heat? Home Minister P Chidambaram sips on water during a press conference in New Delhi on Wednesday. — PTI
Curfew continues in valley; protesters teargassed: J&K page
IIM-Rohtak opens its doors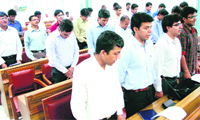 Rohtak, June 30
The youngest Indian Institute of Management was formally 'inaugurated' here today but without a regular director, regular faculty or a building of its own. The faculty of IIM, Lucknow, it was informed, would engage classes till Rohtak IIM gets its own faculty.
CAST YOUR VOTE
Should Warren Anderson be extradited?

EDUCATION
JOBS & CAREERS
HEALTH & FITNESS
SCIENCE & TECHNOLOGY
REAL ESTATE

SPORTS & WELLNESS
By 2020, 42m students will need Rs 1.6 lakh crore loans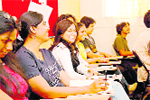 New Delhi, June 30
The Centre may have promised 26 per cent Gross Enrollment Ratio in higher education by 2017 and 30 per cent by 2020, but educating young India is no mean job.
Ruchika Molestation
Now, Rathore's pension withheld
New Delhi, June 30


After being stripped of his police medal, SPS Rathore's pension has been withheld completely in another blow to the disgraced ex-DGP of Haryana jailed for molesting minor girl Ruchika Girhotra.
UNION BUDGET 2010-11
RAILWAY BUDGET
2010-11
NDA 60 Glorious Years
1857 The First Challenge
E - Revolution 2005:
A Two-day IT conclave
Assembly Elections - 2005
Turbans
Chandigarh is 50
125 Years of The Tribune
India: The Tasks Ahead
India at Sixty
A Tribune Supplement
EARLIER FEATURES
On Sundays
On Saturdays
Nagaland minister held in Nepal, released
Was detained for carrying Indian currency notes of denominations of Rs 500 and Rs 1,000 that are banned in Nepal
Nagaland Home Minister Imkong L Imchen, who was arrested at the

Tribhuvan International Airport on Wednesday morning on the charge of possessing notes of the denomination of Rs 1000 and Rs 500, which are banned in Nepal, flew to New Delhi in the evening after the police released him. Imchen had arrived in Kathmandu to attend a marriage ceremony as a commoner on June 27. l'Was not aware of ban'
Imkong L Imchen
Cheating case against Praful


Betul (MP), June 30
A local court has registered a case of cheating against Civil Aviation Minister Praful Patel and eight partners of his company in a land sale matter and asked them to be present before it on July 29.
Civil Aviation Minister Praful Patel


Tired, CRPF men have given up in Bastar
Raipur, June 30
The Chhattisgarh Police and experts on Maoist warfare are blaming the Central Reserve Police Force (CRPF) for repeatedly falling victim to Maoist guerrillas. Police sources claim that the CRPF personnel are not only poorly trained to operate in jungle terrain but are also reluctant to take on the well-entrenched Maoists. On top of it, they say, the CRPF personnel refuse to follow intelligence inputs while launching operations deep in the impregnable forests of Bastar region.
Diesel prices to be decontrolled: PM
June 30, 2010
India, Canada sign N-pact
June 29, 2010
Can't silence Hafiz: Pak
June 28, 2010
India, Pak take a leap of faith
June 27, 2010
A big hole in your pocket
June 26, 2010
Cordiality returns
June 25, 2010
India to talk tough with Pak
June 24, 2010
Shahzad pleads guilty
June 23, 2010
Rs 1,500 crore package for Bhopal victims
June 22, 2010
Govt keen to soften Armed Forces Special Powers Act
June 21, 2010