PUNJAB
HARYANA
JAMMU & KASHMIR
HIMACHAL
REGIONAL BRIEFS
NATION
OPINIONS
LETTERS
BUSINESS
SPORTS
WORLD
Saturday, July 3, 2010, Chandigarh, India
Updated at 3:00 am (IST)

Top Maoist leader shot dead in AP
Azad carried Rs 12-lakh reward on his head
Hyderabad, July 2
In a major setback to the Maoist movement, its top leader and Politburo member Cherukuri Rajkumar, alias Azad, was killed in an encounter in the Jogapur forest area on the Andhra Pradesh-Maharashtra border today.
Fighting Naxals
Andhra model is the answer
Hyderabad, July 2
The elimination of top Maoist leader Azad has once again brought into focus the precision and efficacy of what has come to be known as "Andhra model" of anti-insurgency operations.
Lahore bleeds after blasts
45 killed as terrorists strike at Sufi shrine
Lahore, July 2
Two back-to-back suicide bombings inside Pakistan's highly venerated Sufi shrine of Data Ganj Baksh shrine here killed 45 persons and wounded 180 others in the latest slew of attacks across the terror-stricken nation.

LOCKED IN GRIEF: Devotees mourn at the Data Durbar shrine in Lahore. — Reuters

CAST YOUR VOTE
Should Warren Anderson be extradited?

EDUCATION
JOBS & CAREERS
HEALTH & FITNESS
SCIENCE & TECHNOLOGY
REAL ESTATE

SPORTS & WELLNESS
Hurriyat March
Curfew in entire Srinagar
Srinagar, July 2
Apprehending trouble ahead of the proposed march to Eidgah called by the APHC, curfew was imposed on the summer capital since early this morning. At least 20 persons, including eight cops and CRPF men, were injured in clashes with protesters defying curfew in different parts of the Valley today.
Rodrigues' ex-ADC under CBI lens
Chandigarh, July 2
Major Nirvikar Singh, the high-profile ex-ADC to former Punjab Governor and UT Administrator SF Rodrigues, is under the CBI scanner for "amassing wealth disproportionate to his known sources of income." Nirvikar, who called the shots in the UT Administration during Rodrigues' tenure, was reportedly booked by the CBI last month.
UNION BUDGET 2010-11
RAILWAY BUDGET
2010-11
NDA 60 Glorious Years
1857 The First Challenge
E - Revolution 2005:
A Two-day IT conclave
Assembly Elections - 2005
Turbans
Chandigarh is 50
125 Years of The Tribune
India: The Tasks Ahead
India at Sixty
A Tribune Supplement
EARLIER FEATURES
On Sundays
On Saturdays
Oranje is the flavour, Brazil crash out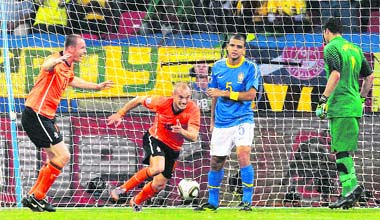 The Netherlands'Wesley Sneijder (second from left) celebrates after scoring the winning goal during the World Cup quarterfinal match against Brazil in Port Elizabeth on Friday. The Netherlands won 2-1. — AP/PTI (Details on Sports page)
Religion quota illegal: Calcutta HC
Kolkata, July 2
The Calcutta High Court today declared as unconstitutional reservation on religious grounds while allotting flats built by a government agency. A Division Bench of Chief Justice JN Patel and Justice B Bhattacharjee hearing a PIL held that there was no provision for reservation on religious grounds in the Constitution.


Himachal blooms ahead of Games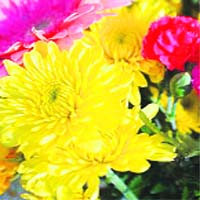 State will be top flower supplier for event, eyes business of Rs 72 crore
New Delhi, July 2
Ahead of the Commonwealth Games starting this October, the flower growing districts of Himachal are preparing to meet their own little challenge of being top suppliers of blooms for one of the finest sporting events in the world.
Centre to J&K : Crack whip on stone pelters
July 2, 2010
PC sees Lashkar hand in Valley
July 1, 2010
Diesel prices to be decontrolled: PM
June 30, 2010
India, Canada sign N-pact
June 29, 2010
Can't silence Hafiz: Pak
June 28, 2010
India, Pak take a leap of faith
June 27, 2010
A big hole in your pocket
June 26, 2010
Cordiality returns
June 25, 2010
India to talk tough with Pak
June 24, 2010
Shahzad pleads guilty
June 23, 2010