PUNJAB
HARYANA
JAMMU & KASHMIR
HIMACHAL
REGIONAL BRIEFS
NATION
OPINIONS
LETTERS
BUSINESS
SPORTS
WORLD
Tuesday, July 6, 2010, Chandigarh, India
Updated at 3:00 am (IST)

Inter-caste ties behind most honour crimes
Just 3% cases due to same gotra marriages, says new survey
New Delhi, July 5
Barbaric honour crimes that have come to stay in the northern states of Punjab, Haryana and Uttar Pradesh appear more rooted in girls' empowerment than in same gotra marriages that Khap panchayats are happily advocating.


Girls' kin kill in 84 per cent cases

UP, Punjab skip NCW meet
Bandh paralyses normal life
Road, air traffic hit; top Oppn leaders court arrest
New Delhi, July 5
Normal life was disrupted in several parts of the country during the 'Bharat Bandh' called by a combined Opposition today in protest against fuel price hike with the greatest impact felt in NDA and Left-ruled states and Maharashtra.
Editorial: Misdirected bandh

BJP activists clash with the police in Lucknow during the Bharat Bandh called by various political parties against price rise on Monday. — PTI
CAST YOUR VOTE
Should Warren Anderson be extradited?

EDUCATION
JOBS & CAREERS
HEALTH & FITNESS
SCIENCE & TECHNOLOGY
REAL ESTATE

SPORTS & WELLNESS
BSF likely to take charge in Naxal heart
Raipur, July 5
The Centre is thinking of using Border Security Force (BSF) in specific special operations against Maoists in view of CRPF men getting hit again and again by Red rebels in Chhattisgarh. Compared to the CRPF, the BSF is far more experienced in counter-terrorism and jungle warfare.
Reduce my workload: Pawar to PM


New Delhi, July 5
Coming under renewed attack for ignoring his ministerial duties after his appointment as president of the International Cricket Council (ICC), Agriculture Minister Sharad Pawar today asked Prime Minister Manmohan Singh to reduce his work load.

Party comes first for NCP supremo
Ishrat was LeT suicide bomber: Headley to NIA
New Delhi, July 5
Bearing out the version of Gujarat Police, American-born Lashkar-e-Toiba terrorist David Headley has claimed before NIA sleuths that Ishrat Jahan, a Mumbai girl killed in a police encounter in Ahmedabad, was a suicide bomber of the outfit.
UNION BUDGET 2010-11
RAILWAY BUDGET
2010-11
NDA 60 Glorious Years
1857 The First Challenge
E - Revolution 2005:
A Two-day IT conclave
Assembly Elections - 2005
Turbans
Chandigarh is 50
125 Years of The Tribune
India: The Tasks Ahead
India at Sixty
A Tribune Supplement
EARLIER FEATURES
On Sundays
On Saturdays
The Last Word
Saina Nehwal
New Queen of the Court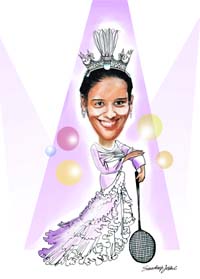 Off court, she is modest and unassuming, but watch her on court and you see a focused and aggressive shuttler who seeks to dominate the world of badminton. She is just two steps from the top and keen to ride her winning streak till she achieves the top spot. At a time when celebrities are projecting a larger-than-life image, she is one who comes across as the quintessential girl next door. Except, that she isn't. Saina Nehwal recently won three successive international badminton titles in three weeks to become World No. 3.


Kamal takes a potshot at plan panel
Calls it 'armchair adviser' unaware of reality
New Delhi, July 5
Terming the Planning Commission as an "armchair adviser", oblivious to the ground realities, Road Transport Minister Kamal Nath today said he was forewarned that the plan panel would not allow him to achieve a 20 km-a-day road-building target. Sharing a dais with Planning Commission Deputy Chairman Montek Singh Ahluwalia here at a programme organised by the commission, Nath said, "When I joined this ministry... everybody asked me that the Planning Commission will never let you do (building 20 km a day)."
Another couple butchered
July 5, 2010
Delhi airport goes swanky
July 4, 2010
Top Maoist leader shot dead in AP
July 3, 2010
Centre to J&K : Crack whip on stone pelters
July 2, 2010
PC sees Lashkar hand in Valley
July 1, 2010
Diesel prices to be decontrolled: PM
June 30, 2010
India, Canada sign N-pact
June 29, 2010
Can't silence Hafiz: Pak
June 28, 2010
India, Pak take a leap of faith
June 27, 2010