PUNJAB
HARYANA
JAMMU & KASHMIR
HIMACHAL
REGIONAL BRIEFS
NATION
OPINIONS
LETTERS
BUSINESS
SPORTS
WORLD
Tuesday, July 27, 2010, Chandigarh, India
Updated at 3:00 am (IST)

Mirchpur Mayhem

MPs panel sees police hand
Says it colluded with dominant castes
New Delhi, July 26
Haryana Chief Minister Bhupinder Singh Hooda's troubles over the April 21 Mirchpur carnage in Hisar might just be beginning. After being pulled up by the Congress high command for atrocities on Dalits in the Jat heartland, the CM is in for castigation by the Parliamentary Standing Committee on SC/ST Welfare, which


Sons of victim
Tara Chand

has found the state government and district police prima facie responsible for the April mayhem which claimed the lives of septuagenarian Tara Chand and his 17-year-old differently bled daughter Suman.
Won't go back: Dalits
Intelligence leak: ISI aiding Taliban in Afghanistan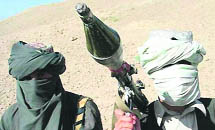 Pakistan is allegedly allowing representatives of the Inter Services Intelligence agency to meet directly with the Taliban in "secret strategy sessions" to organise militants fighting US troops in Afghanistan as well as plot the assassination of Afghan leaders, according to leaked US military field reports.
CAST YOUR VOTE
Should Warren Anderson be extradited?

EDUCATION
JOBS & CAREERS
HEALTH & FITNESS
SCIENCE & TECHNOLOGY
REAL ESTATE

SPORTS & WELLNESS
Fake Encounter
Ex-cop turns approver
Shah seeks bail, Ram Jethmalani is his counsel
Ahmedabad, July 26
A former police officer, NK Amin, an accused in Sohrabuddin fake encounter case, today turned approver and moved a court, in a shot in the arm for CBI that could spell more trouble for Gujarat's jailed former minister and key accused Amit Shah.
Bovine Theft
20 hurt as police, protesters clash in Samba
Residents block Jammu-Pathankot National Highway for 10 hours
Samba, July 26
A 10-hour-long blockade and violent clashes between a mob and the police took place on the Jammu-Pathankot National Highway here today after a person was caught stealing bovine.
| | |
| --- | --- |
| | Policemen lob teargas shells on protesters in Samba on Monday. Violent clashes broke out between a mob and the police on the national highway after a person was caught for bovine theft. Photo: Anand Sharma |
UNION BUDGET 2010-11
RAILWAY BUDGET
2010-11

NDA 60 Glorious Years
1857 The First Challenge
E - Revolution 2005:
A Two-day IT conclave
Assembly Elections - 2005
Turbans
Chandigarh is 50
125 Years of The Tribune
India: The Tasks Ahead
India at Sixty
A Tribune Supplement
EARLIER FEATURES
On Sundays
On Saturdays
No relief for Samba case petitioners
New Delhi, July 26
The 32-year-old "Samba spy case" that has been through many an emotional turn of events for the accused and their families, resulted in a major setback to eight of the indicted personnel of the Army today. The Armed Forces Tribunal dismissed their petitions saying similar pleas had already been rejected by respective high courts.
Permanent Commission
Submit rules that bar women: SC to Army
New Delhi, July 26
The Supreme Court today asked the Army to produce within a week the relevant rules that prevented it from granting permanent commission to women even as the Centre argued that it was a policy decision not to allow such a facility.
In Punjab, wheat worth Rs 800 cr goes waste annually
Chandigarh, July 26
Antiquated food storage methods and technologies have been costing India dearly. The chairman of the Food Corporation of India (FCI), Siraj Hussain, admits that food worth Rs 50,000 crore is wasted every year. This comes roughly to 20 per cent of the total food produced by the country.
Shah surrenders before CBI
July 26, 2010
PM banks on monsoon to halve inflation
July 25, 2010
CBI charges Shah, top cops with murder
July 24, 2010
What a way to go!
July 23, 2010
Mayhem in Bihar House
July 22, 2010
With train driver dead, probe may yield little
July 21, 2010
63 dead in Bengal train collision
July 20, 2010
Maoists build a big army in Bastar
July 19, 2010
Kayani played the spoilsport
July 18, 2010
Day after, the war of words begins
July 17, 2010