PUNJAB
HARYANA
JAMMU & KASHMIR
HIMACHAL
REGIONAL BRIEFS
NATION
OPINIONS
LETTERS
BUSINESS
SPORTS
WORLD
Tuesday, August 3, 2010, Chandigarh, India
Updated at 3:00 am (IST)

No talks without peace, Omar to Valley hardliners
Restraint can't be one-sided, says the CM
PM chairs meet on situation in J&K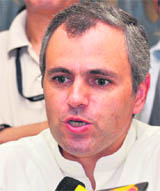 New Delhi, August 2
As the Valley plunged deeper into crisis and deaths mounted to 19 since Friday, the Centre and Jammu and Kashmir Government today called for immediate restoration of some semblance of normalcy in the state for any positive initiatives to be taken. Both agreed that there could be no dialogue with the stakeholders unless peace was allowed to prevail.


Punish those instigating unrest in Valley: Sonia

Seven killed, 76 hurt in fresh violence

Jammu and Kashmir CM Omar Abdullah addresses a press conference after meeting the Prime Minister in New Delhi on Monday. Tribune photo: Mukesh Aggarwal

CAST YOUR VOTE
Should Warren Anderson be extradited?

EDUCATION
JOBS & CAREERS
HEALTH & FITNESS
SCIENCE & TECHNOLOGY
REAL ESTATE
SPORTS & WELLNESS
Forces short of 14,000 officers, says Antony
New Delhi, August 2
It was almost like a customary proceeding in Parliament, as the question on the shortage of officers in the armed forces popped up yet again. Defence Minister AK Antony, in reply to a query in Lok Sabha today, said: "There is a shortage of about 11,500 officers in the Army, 1,507 in the Navy and 1,237 in the Air Force (a shortage of 14,244 officers in all)."


Nation page: Women to get permanent commission in Army: Govt
Central relief to Punjab millers
Jalandhar, August 2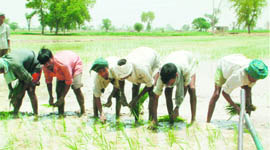 The Union Government today gave an extension to the Punjab Government for milling the remaining stocks of paddy, worth Rs 4,000 crore, till September 30. The entire paddy procured for the Central pool by the state procurement agencies was to be shelled and transferred to the Food Corporation of India till July 30.
Bhopal tragedy: CBI moves SC for stringent charge against accused
New Delhi, August 2
The CBI today moved the Supreme Court seeking to restore the stringent charge of culpable homicide, which attracts the maximum punishment of 10 years of jail term, against the accused in Bhopal gas leak case by recalling its 14-year-old judgment that had diluted the offence.
UNION BUDGET 2010-11
RAILWAY BUDGET
2010-11

NDA 60 Glorious Years
1857 The First Challenge
E - Revolution 2005:
A Two-day IT conclave
Assembly Elections - 2005
Turbans
Chandigarh is 50
125 Years of The Tribune
India: The Tasks Ahead
India at Sixty
A Tribune Supplement
EARLIER FEATURES
On Sundays
On Saturdays
Parliament logjam ends
Government manages to persuade Opposition to give up their demand to discuss price rise in both Houses
New Delhi, August 2
The weeklong impasse in Parliament finally ended today, with the Opposition, embarrassed of stalling proceedings for too long, climbing down several steps and the government, too, indulging the Opposition in phrasing the proposed resolution.
By Dec 2011, listening posts to make borders securer
New Delhi, August 2
In a two-pronged attempt to further secure the country, India will set up listening posts along its borders to intercept enemy communication and install low-level radars to detect movement.


A 'village' for abandoned children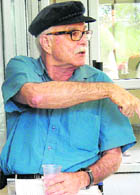 Tel Aviv, August 2
"Be the change that you want to see in the world," says Dr Chaim Peri, quoting Mahatma Gandhi. A legend in Israel, Dr Chaim Peri is credited with having started a unique system of rehabilitation of at-risk children, known the world over as the "village way" -- a boarding village, which, as Peri puts it, "de-institutionalises institutions".
Dr Chaim Peri

Valley bleeds as eight die in fresh clashes; over 60 hurt
August 2, 2010

Flood alert in Haryana again
August 1, 2010

Ready to talk with all Valley groups: PC
July 31, 2010
Make the border more secure, pleads Punjab
July 30, 2010
British PM ticks off Pak on terror export
July 29, 2010
Showdown over price rise
July 28, 2010
MPs panel sees police hand
July 27, 2010
Shah surrenders before CBI
July 26, 2010
PM banks on monsoon to halve inflation
July 25, 2010
CBI charges Shah, top cops with murder
July 24, 2010