Going global with Gems
With more and more takers among world celebrities, Indian jewellery is rising in stature, writes Vimla Patil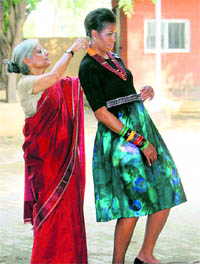 It seems the 'hunger' of the rich and famous for gems and jewellery is increasing by the year! No wonder India, renowned since millenniums for its treasures of gold and diamonds, is once again in the news. Hollywood stars like Kate Winslet, Drew Barrymore and wives of the world's top leaders like Michelle Obama have shown their preference for jewellery created by leading designers in Indian style. Every year, either the grand wedding season or international red-carpet events become veritable showcases for India's fabulous jewellery and once again, the media is full of images of celebrity women wearing dazzling ornaments created by Indian designers.

US First Lady Michelle Obama trying a neckpiece during her visit to New Delhi last year Photo: PTI



Talking trends


Say it with statement pieces
A tissue that burns oodles of flab
Brown fat, a wondrous tissue, can burn oodles of flab and help us stay slim and trim. Brown fat is present in most, if not all, adults mainly just behind the collarbone. Too much of 'white fat' causes obesity. A gram of the substance stores six kilocalories of energy, whereas the same quantity of brown fat burns six kilocalories daily. Adults with brown fat are slimmer.
Water under lock and key
There are long rows of water bodies along the highway in the Bamsan area of Himachal. Constructed by digging rocks, they have become a permanent source of water, which is fit for human consumption and also has medicinal value, reports Rajendra Rajan
Have you ever seen the traditional water sources preserved under lock and key? If not, a drive to the Bamsan area of Hamirpur in Himachal will lead you to a site of long rows of such water bodies alongside the highway. Popularly known as khatris in local parlance, these water sources are an integral part of the social milieu. Khatris are the unique and rare examples of rainwater harvesting. Since time immemorial, each generation has passed on these water sources to posterity by ensuring their conservation.
Rocking creations
While climbing the ladder of success, Ritu Kumar has not only defined fashion but has also become the first woman to introduce the boutique culture in India by launching her own brand, writes Nivedita Sharma
Ritu Kumar, a pioneer of the Indian fashion industry, who has proved her mettle with her ethnic Indian creations, says the fashion world may look rosy from outside but in reality it makes for a very difficult career. "The Indian fashion industry has grown very fast. It is now supported by the mainstream media.
Valley of gods
If Himachal Pradesh is called devbhoomi (land of gods), then the Sangla valley can rightly be called a heavenly abode, writes Sumitra Senapaty
Situated at about 10,000 ft, the Sangla valley is the place where Himachal Pradesh greets Tibet. The Chinese border is 30 km away. Sangla is a picturesque drive through winding mountain roads. The topography changes constantly with the Sutlej hurtling across the valley. Normally the first hint of snow-clad Himalayan peaks is visible near Karcham — just 12 km short of the Sangla valley.
Queen of kathak
She is 91 with the soul of a youthful dancer, who refuses to bow to the vagaries of years. Kathak queen Sitara Devi has been honoured with the Legends of India Lifetime Achievement Award 2011 for her contribution to the classical dance genre for over six decades.
Animated Katrina
She has a Barbie doll named after her and now actress Katrina Kaif will be seen as an animated fairy in the video of a children's album Rhyme Skool Vol.2. This is the first time that Katrina will be turned into an animated character. She will be shown as a fairy with her magic carpet, and will be giving a one-line voiceover before every rhyme. The video has been created by Accel Animation, said a statement from the music label.
'Mausam is a classic love story'
Says Sonam Kapoor about her latest film, in which she acts opposite Shahid Kapoor, in a chat with Surekha Kadapa-Bose
Though she is still in her early twenties, she has already carved a niche for herself as a style diva. It was this label, which got her the most coveted brand ambassadorship of L'Oreal. Coming from a film background, Sonam Kapoor, the eldest daughter of veteran actor Anil Kapoor and niece of Boney and Sunjay Kapoor, she is no novice to this industry.
Amitabh's foray into Hollywood
After more than four decades of contribution to Hindi cinema, Amitabh Bachchan is finally stepping out! At 68, he is ready to make his Hollywood debut with Baz Luhrmann's The Great Gatsby, which has Titanic star Leonardo DiCaprio in the lead.