Innovation in cooking is her recipe of success
Neha Saini
Tribune News Service
Amritsar, February 20
She turned recipes of her grandma and mother good to enter the menu of a Michelin star restaurant, her kitchen into a professional ground to cut through a tough competition. Meet Jyoti Kapoor, now famous as Jyoti aunty of the just concluded second season of Master Chef India.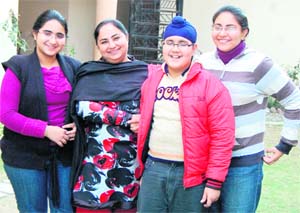 Jyoti Kapoor with her children at her residence in Amritsar on Monday. Photo: Sameer Sehgal
The housewife, whose recipes made her one of the most popular contestants on the show, says has become even better when it comes to her culinary skills.
Her resolve is to change the concept of home cooking.
Call it the 'Umbarsari' effect or feeding a big family, Jyoti was cut out for Masterchef. "I spent my childhood in a large family and was married into another. I have been cooking elaborate meals for the past 22 years now and was already trained in a way for completions like Masterchef," she says. "Masterchef kitchen was all about tossing up quick yet efficient recipes, which I have been doing in my kitchen as well. The only thing that changed was the fact that I was able to turn home cooking into professional one."
The lady from Amritsar, who goes to eat out once in a year or so, had no idea that she will one day become the face of the city's passion for food. Pushed into auditioning for the show by her husband who she says is a big foodie, she counted herself out even before she began her journey on the show. "There is a lot of heat in Masterchef kitchen, with tough tasks and recipes that we don't come across in our routine cooking. Not only you have to cook delicious food, but know about each of the ingredients and details that go into presenting it impressively. And you are judged by the best in business," she says.
Belonging to a city which loves its food, added to the responsibility. "People thought Amritsaris enjoy eating and not cooking. I guess I was able to change the perception," she says.
It wasn't tough for her after all. Having inherited her mother's culinary skills, Jyoti takes a scientific approach towards cooking.
"It's not an everyday activity; it has a technique to it. On the show, Chef Ajay was the one who had a vast knowledge about food in every possible way." For Jyoti cooking had always been an outlet for her creativity. She first cooked up a meal for her mother at the age of eight and has been improvising on it since then. "Where my mother left, my mother-in-law picked up. She is even better than me," she says.
She made the judges fall in love with her butter chicken, admired her maiden attempt at tossing up an interesting French delicacy on the show. "Before the show, I was clueless about French cuisine. But the idea is not to be perfect at everything, only to learn and improvise quickly." Her dignified presence and then elimination on the show made her a darling of Vikas Khanna, who also belongs to the city. She is currently working on his book on famous delicacies from Amritsar.
Her next step, not to open her restaurant but, "I want to open an academy to prepare pre-chefs. I want to change the mindset of young girls who think cooking is cumbersome, it's creative I say."