Guide to best colleges

Results of Punjab Assembly Polls 2012


THE TRIBUNE DEBATE: NCTC

Army Chief's Age Row

2011: THE YEAR OF UPRISINGS

Punjab Public Transport, an investigation

WORLD CUP 2011: CRICKET SPECIAL

Turbans

EARLIER FEATURES

Manesar arson: 10 accused in police net
Gurgaon, August 1
In a major breakthrough, the Gurgaon police today succeeded in arresting the 10 remaining office-bearers of the labour union of Maruti Suzuki India Limited, Manesar, who were the key accused in the July 18 mayhem.

Chidambaram, Moily, Shinde have their tasks cut out
New Delhi, August 1
As P Chidambaram once again takes over as the Finance Minister, his task is cut out as he faces the challenge of kick-starting the economy that is ailing on several counts.
(Details on Nation page)


No more outages, assures Moily
Punjab to shift schoolteachers enjoying 'special postings'
Chandigarh, August 1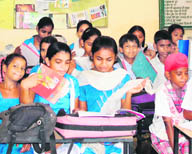 At a time when hundreds of government schools in rural Punjab are facing an acute shortage of teachers, the Education Department has found at least 3,000 teachers who have managed "special postings" to stay put in cities and towns of their choice for years together.

Day 2: India gasps for power
August 1, 2012
North knocked out for 12 hours
July 31, 2012
Poor monsoon will add to economic woes, says industry
July 30, 2012
PM announces relief for Assam riot-hit
July 29, 2012
DNA test out, confirms Rohit is Tiwari's son
July 28, 2012
With 73% rainfall deficit, Haryana stares at drought
July 27, 2012
President Pranab takes charge
July 26, 2012
Assam struggles to control deadly riots; 11 more killed
July 25, 2012
NCP puts off plans to pull out of UPA govt, for now
July 24, 2012
Pranab is President
July 23, 2012
Lockout at Manesar, but Maruti won't exit Haryana
July 22, 2012