PUNJAB

HARYANA

JAMMU & KASHMIR

HIMACHAL

REGIONAL BRIEFS

NATION

OPINIONS

LETTERS

BUSINESS

SPORTS

WORLD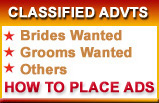 Monday, November 12, 2012, Chandigarh, India
Edition update time 2:30 am (IST)


PM gives Maya food for thought


Numbers comfortable, says Kamal Nath


Don't read too much into meeting, says BSP chief
New Delhi, November 11
Adopting a different approach in reaching out to leaders of political parties supporting the UPA government from outside, Prime Minister Manmohan Singh today interacted with BSP supremo Mayawati.
2G auction begins today, may run into legal hurdles
New Delhi, November 11
The auction for telecom Spectrum through which the government hopes to meet Rs 40,000-crore revenue target begins tomorrow. The move, however, could face legal challenges from telecom operators that have been upset over some recent decisions.