china's new guard
Steering economy biggest challenge ahead of China's next Premier
Beijing, November 15
China's next Premier Li Keqiang, a protégé of outgoing President Hu Jintao, is known as a cautious and pragmatic leader who is facing the arduous task of shepherding the world's second largest economy amid lingering global economic slowdown.
1 dead, 4 hurt as ultras open fire near Dal Lake
Srinagar, November 15
One person was killed and four others were injured after some unidentified militants opened fire outside liquor shops here in the evening today, a police spokesman said. The victims were employees of licenced liquor shops inside a government-run hotel on the Boulevard Road in the Dal Lake area. An employee - Mushtaq Ahmad of Aloochi Bagh - was killed in the firing by the militants, who simultaneously carried out the attack at two liquor shops in the area, the spokesman said.
Bhiwani villagers torch police station after double murder
Bond Kalan (Bhiwani), Nov 15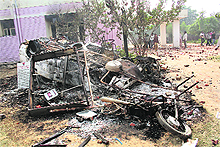 An irate mob torched a police station in Bond Kalan village of Bhiwani district today, burnt vehicles and blocked the highway after the police allegedly failed to take quick action against a criminal who killed two brothers in the village.
A burnt vehicle at Bhiwani's Bond Kalan police station on Thursday. Photo: Manoj Dhaka