Yeddy quits BJP, but says won't rock govt
Bangalore, November 30
In a setback to the ruling Bharatiya Janata Party in Karnataka, its estranged strongman and former Chief Minister BS Yedddyurappa today resigned from the party's primary membership.
Punjabi film bags Golden Peacock at Goa film fest
Nonika Singh/TNS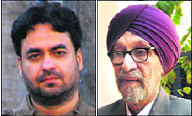 When Gurvinder Singh's much acclaimed and awarded film 'Anhe Ghode Da Daan' was selected for the international competition at the International Film Festival of India, Goa, he thought it was an honour enough.
Gurvinder Singh's (left) film 'Anhe Ghode Da Daan' is based on the novel of the same name by celebrated writer Gurdial Singh (right).


Q2 growth dips to 5.3%, headed for decade low
New Delhi, November 30
The economy continues to be weak with the GDP growth for the July-September quarter coming in at 5.3% with the remaining quarters of this fiscal also likely to remain subdued. (Details on Business page)