LIFE+STYLE

CHANDIGARH

LUDHIANA

BATHINDA

JALANDHAR

AMRITSAR TRIBUNE

JALANDHAR TRIBUNE

BATHINDA TRIBUNE

JAMMU TRIBUNE

KASHMIR TRIBUNE

DELHI

DEHRADUN

DEHRADUN PLUS

The tribune guide to best colleges

Budget
2013-14

INDIA CHINA WAR 50 YEAR LATER

YEAREND SPECIAL: 2012

Year of survival

The tribune 130 years
a witness to history
book released by prime minister manmohan singh

Guide to best colleges

Results of Punjab Assembly Polls 2012

HIMACHAL VOTES 2012

EARLIER FEATURES
Congress to relaunch 'yatra' near Maoist ambush site soon
Raipur, June 2
Unfazed by the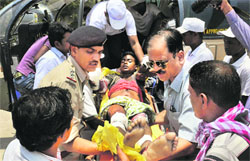 dastardly attack by Maoists, Opposition Congress in Chhattisgarh will soon resume its 'parivartan yatra' from Keslur village near Jiram Ghati, the spot where its convoy was ambushed on May 25.
An injured jawan of Chhattisgarh Armed Force is being taken to a hospital after a blast occurred at their camp in the Maoist-hit district of Bijapur on Sunday. — PTI

Maoist banners warn tribal youths against joining CRPF
India largest contributor to UN peace missions
New Delhi, June 2
Reflecting the important role it is playing in promoting peace operations worldwide, India has become the largest contributor to UN missions since inception. So far, India has taken part in 43 peacekeeping missions with a total contribution exceeding 160000 troops and a significant number of police personnel.

Haryana civic poll peaceful, 70 per cent voting recorded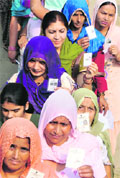 Chandigarh, June 2
Haryana reported peaceful polling in seven municipal corporations and two municipal committees recording around 70 per cent turnout despite scorching heat. The polling was largely peaceful with reports of minor skirmishes and attempts to browbeat voters, but the state election commission described the polling as "incident-free".
Women cast their votes at ward no. 6 at Kambopura village of Karnal on Sunday. Tribune photo: Ravi Kumar

Badal probe into book scam an eyewash?
Procedure for ordering a judicial inquiry not followed in Maluka case
Chandigarh, June 2
The "judicial inquiry" ordered by the Punjab Government into the irregularities in the selection and purchase of various books by the Education Department seems to be nothing more than a departmental probe. Official sources say there is a set procedure for ordering a judicial inquiry. This includes preparation of a memorandum for being presented to the Cabinet for approval.
Finance Ministry seeks RBI nod for all-women bank
New Delhi, June 2
To make all-women bank a reality by October, the Finance Ministry has approached the Reserve Bank of India for clearance to set up the country's first such bank. "The committee set up to prepare the blueprint for an all-women bank has submitted its report to the Finance Minister. We have sought in-principle approval from the RBI for the all-women bank," Financial Services Secretary Rajiv Takru said.
OTHER PAGES

PUNJAB: Cong workers lift dharna on assurance of impartial probe


HARYANA: Minor scuffles mark polling in state


HIMACHAL: Team to reassess land need for Central varsity


CHANDIGARH: 65% turnout in Panchkula MC poll


LUDHIANA: Unsafe road not MC concern


DELHI: Nangloi girl gangraped


Business:

Taxmen to file court cases against bankers, depositors

OPINIONS: Indian cricket shamed

SPORTS: 'BCCI meet fixed, Srinivasan should have quit'

WORLD: Calm on Turkish streets after days of protests


Shukla resigns as IPL chief, Srinivasan's exit imminent
June 2, 2013
Pressure mounts on Srini as two key BCCI members quit
June 1, 2013
The new gold rush
May 31, 2013
Pressure mounts on BCCI chief to go
May 30, 2013
Bastar attack: Cong wants CM to go
May 29, 2013
Major offensive against Maoists in Bastar jungles
May 28, 2013
Bodies of PCC chief, son found; Bastar toll 27
May 27, 2013
Law to curb sports frauds soon: Sibal
May 26, 2013
4 jawans, Hizb militant killed in J-K
May 25, 2013
Difficult neighbourhood poses multiple security challenges: PM
May 24, 2013