LIFE+STYLE

CHANDIGARH

LUDHIANA

BATHINDA

JALANDHAR

AMRITSAR TRIBUNE

JALANDHAR TRIBUNE

BATHINDA TRIBUNE

JAMMU TRIBUNE

KASHMIR TRIBUNE

DELHI

DEHRADUN

DEHRADUN PLUS

Ladakh again, Chinese troops take away camera


Return it before Antony's Beijing visit


Not an incursion: Govt
Jammu/New Delhi, July 9
The ground situation along the Indian-China border remains hazy, notwithstanding the recent announcements by the two countries to scale up their defence ties. Nearly three months after a bitter border standoff, Chinese troops reportedly entered the disputed section of the Line of Actual Control in the Chumar sector in Ladakh and took away a non-functional secret camera.

SC slams Centre, states over acid attacks
New Delhi, July 9

Slamming the Centre and the state governments for their inaction to check easy availability of acids in the market in order to prevent its misuse against women, the Supreme Court said it would ban its sale if the authorities continued to be indifferent to the problem.

Nation page: Evolve rehab plan for acid attack victims, HC tells Punjab, Haryana

OTHER PAGES

J&K: 5 militants killed as Army foils infiltration bid in Kupwara


HIMACHAL: Vigilance to prosecute Bindal


CHANDIGARH: Power to cost more during peak hrs

LUDHIANA: GLADA puts 1,750 realtors on notice


DELHI: FYUP admission DU panel to look into complaints


Business:

To boost manufacturing, PM's panel for hiking steel output

OPINIONS: Return of aged & angry


NATION: No early changes likely in judges' appointment system


SPORTS: Sacking Nobbs a step in right direction

WORLD: Hazem el-Beblawi new Egyptian Prime Minister


The tribune guide to best colleges

Budget
2013-14

INDIA CHINA WAR 50 YEAR LATER

YEAREND SPECIAL: 2012

Year of survival

The tribune 130 years
a witness to history
book released by prime minister manmohan singh

Guide to best colleges

Results of Punjab Assembly Polls 2012

HIMACHAL VOTES 2012

EARLIER FEATURES
India, Nepal discuss extradition treaty, key bilateral issues
Kathmandu, July 9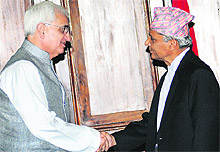 External Affairs Minister Salman Khurshid today met Nepal's top leadership here and discussed important bilateral issues, including the finalisation of an extradition treaty.
Indian External Affairs Minister Salman Khurshid (L) with Nepalese Chairman of the Interim Council of Ministers, Khil Raj Regmi, in Kathmandu on Tuesday. — AFP
Food security on mind, Sonia to meet Cong CMs
New Delhi, July 9
All set to hard sell the National Food Security Ordinance-2013 as the "mother of all schemes" ahead of the general election, Congress president Sonia Gandhi has convened a crucial meeting of all Congress chief ministers and top party leadership on July 13 to take the move to the people.

Hockey coach Nobbs sacked
New Delhi, July 9
Australian Michael Nobbs has been sacked as the chief coach of the Indian hockey team for non-performance, becoming the fourth foreign coach to be shown the door before completion of the full tenure.
Michael Nobbs
UN report unmasks gender-insensitive Haryana
Blames skewed sex ratio for rampant trafficking of women into state for forced marriages


Chandigarh, July 9
A report of the United Nations Office on Drugs and Crimes (UNODC) has blamed Haryana's skewed sex ratio for large-scale trafficking of girls from other states for forced marriages and 'bonded' labour into the state.

13 bombs were planted, says Shinde
July 9, 2013
9 serial blasts rock Bodh Gaya
July 8, 2013
India, China to scale up defence ties
July 7, 2013
Freebie offers vitiate poll process: SC
July 6, 2013
Food security ordinance raises Opposition hackles
July 5, 2013
Ishrat encounter was fake: CBI
July 4, 2013
Maoists kill SP, 5 cops in Jharkhand
July 3, 2013
U'khand gets rehab authority
July 2, 2013
As toll estimates mount, states asked to verify their missing
July 1, 2013
Toll now put at 3,000; NDMA says 2,300 villages still cut off
June 30, 2013