LIFE+STYLE

CHANDIGARH

LUDHIANA

BATHINDA

JALANDHAR

AMRITSAR TRIBUNE

JALANDHAR TRIBUNE

BATHINDA TRIBUNE

JAMMU TRIBUNE

KASHMIR TRIBUNE

DELHI

DEHRADUN

DEHRADUN PLUS

Kishtwar violence: Tension eases in 7 curfew-bound districts
Jammu, August 13
Four days on since Kishtwar riots, tension eased in curfew-bound seven districts out of 10 in Jammu region today while annual Amarnath Yatra resumed this morning under Army protection after three days of suspension. The fresh batch safely reached Kashmir this evening.
Tender norms tweaked to suit AgustaWestland: CAG
New Delhi, August 13
In a damning report on the purchase of the 12 VVIP helicopters at a cost of Rs 3,726 crore, the Comptroller and Auditor General (CAG) today pointed an accusatory finger at how the purchase was made by specifically changing the tender to suit AgustaWestland, an Anglo-Italian firm.
Vadra land deals rock Parliament, BJP demands SIT probe
New Delhi, August 13
The alleged dubious land deals of Robert Vadra, son-in-law of UPA chairperson Sonia Gandhi, rocked Parliament today. While a vociferous Opposition, led by the BJP, insisted on being allowed to raise the issue, the Congress rejected the argument on the ground that it was a state subject and Vadra a private individual.
OTHER PAGES

HARYANA: Cong rebels close in on Hooda


HIMACHAL: CM seeks Rs 12,466 cr as grant from finance panel


CHANDIGARH: Irate kin vandalise GMSH-16


LUDHIANA: Houses develop cracks in BRS Nagar


DELHI: Conflict between govt, MCD hampers development in illegal colonies: BJP


Business:

Gold, silver to cost more as import duty hiked to 10%

OPINION: When freebie is bribe

SPORTS: IBL set for exciting launch

WORLD: Peace talks to resume under cloud of Israeli construction



Lahore Log

The tribune guide to best colleges

Budget
2013-14

INDIA CHINA WAR 50 YEAR LATER

YEAREND SPECIAL: 2012

Year of survival

The tribune 130 years
a witness to history
book released by prime minister manmohan singh

Guide to best colleges

Results of Punjab Assembly Polls 2012

HIMACHAL VOTES 2012

EARLIER FEATURES

Pak firing unabated, 11 Indian posts targeted
Jammu, August 13
Pakistani troops opened heavy fire on 11 Indian forward posts in Balakote and Mankote sectors along the Line of Control (LoC) in Poonch district for nine hours on the intervening night of August 12 and 13.



UN can mediate if both sides agree: Ban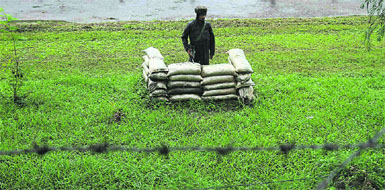 A soldier stands guard close to the Line of Control in Poonch district. — Reuters


CSR spending will help firms connect with people: Pilot


New Delhi, August 13
Corporate Affairs Minister Sachin Pilot has clearly said that the new Companies Bill has made it mandatory for companies to spend 2 per cent of profits on Corporate Social Responsibility (CSR) which will help companies to connect more with the communities.
J&K minister quits, protests continue
August 13, 2013
Curfew in 5 more J-K districts
August 12, 2013
Kishtwar violence spreads to Jammu, Rajouri areas
August 11, 2013
US pulls out diplomats from Lahore over terror threat
August 10, 2013
Antony now says Pak Army did it
August 9, 2013
Furore in Parliament over Antony's 'clean chit' to Pak on LoC killings
August 8, 2013
5 soldiers killed in Pak ambush
August 7, 2013
SP, Cong slug it out over UP officer
August 6, 2013
Turbulence looms as crucial monsoon session begins
August 5, 2013
Bombers target Indian mission in Afghanistan, 12 locals dead
August 4, 2013