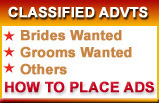 LIFE+STYLE

CHANDIGARH

LUDHIANA

BATHINDA

JALANDHAR

AMRITSAR TRIBUNE

JALANDHAR TRIBUNE

BATHINDA TRIBUNE

JAMMU TRIBUNE

KASHMIR TRIBUNE

DELHI

DEHRADUN

DEHRADUN PLUS

Cash crunch: Punjab staff will have to wait for salaries
Chandigarh, September 2


Three lakh employees of Punjab will have to wait for some more days to get their salary for August. With the state government having used its revenue receipts for the last month in order to clear its ways and means advances (a kind of overdrawal) and disburse pensions, it has been left with no money to pay almost Rs 1,200 crore as salary to its employees.
Asaram sent to 14-day judicial custody, facing 'strong case'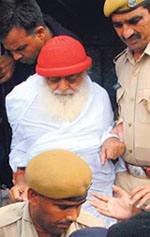 Jodhpur, September 2
Self-styled godman Asaram Bapu, accused of sexually assaulting a 16-year-old girl at his ashram here, was remanded in 14-day judicial custody by a local court. Wearing a white dhoti and kurta and a red skull cap, the controversial godman was produced amid tight security before the district and sessions court where the magistrate Manoj Kumar ordered to send him to judicial custody till September 15.
Asaram Bapu is escorted by police to a court in Jodhpur on Monday. — AFP

OTHER PAGES

PUNJAB: Highway project yet to be completed, but toll rates up


HIMACHAL: Ban on carrying construction materials to other states soon


CHANDIGARH: Who let the cattle out?


LUDHIANA: 3 bikers crushed to death


DELHI: Resettlement colonies to get ownership rights


Business:

Core sector growth at 4-mth high of 3.1% in July

OPINION: Oil on the boil


NATION: Modi as PM candidate: BJP struggles to build consensus


SPORTS: Runaway wins for Djoko, Hewitt

WORLD: Taliban attack US base in Afghanistan


Lahore Log

The tribune guide to best colleges

Budget
2013-14

INDIA CHINA WAR 50 YEAR LATER

EARLIER FEATURES
Canada Calling
You never miss India in Toronto
Indians took over the heart of Toronto at the recent India Independence Day Parade
Barring individual community events held by various Indo-Canadian groups, Toronto's India Independence Day parade and related functions are the biggest collective Indian event in Canada. (Details on Opinions page)
Syria regime behind gas attack: France
Paris, September 2
France was set today to provide what it says is clear evidence that the Syrian regime was behind a devastating chemical attack, as Western leaders bid to overcome widespread scepticism to military action.

World page: To sway Syria vote, Russian MPs want to fly to Washington


Editorial: The crisis in Syria
U-turn: Moily says not shutting petrol pumps at night


New Delhi, September 2
The Petroleum Ministry today clarified that there is no proposal under consideration of the government to allow sale of petroleum products from the retail outlets only during certain hours. In a statement, the ministry has denied the media reports in this regard which had stated that petrol pumps may be ordered to shut operations between 8 pm and 8 am.



SC pushes for swift justice in rape cases
September 2, 2013

Juvenile held guilty, to spend three years in special home
September 1, 2013
House logjam hitting investor mood: PM
August 31, 2013
Terror mastermind Bhatkal held
August 30, 2013
Re in tailspin amid concerns over oil prices
August 29, 2013
Govt steps in to put mega projects on fast track
August 28, 2013
Food Security Bill clears LS hurdle
August 27, 2013
Monsoon bounty: Good rains, plentiful grains
August 26, 2013
Sonia rules out early polls, sure of UPA-III
August 25, 2013
12 Andhra MPs suspended in LS
August 24, 2013
Govt seeks to negate SC order on convicted lawmakers
August 23, 2013