LIFE+STYLE

CHANDIGARH

LUDHIANA

BATHINDA

JALANDHAR

AMRITSAR TRIBUNE

JALANDHAR TRIBUNE

BATHINDA TRIBUNE

JAMMU TRIBUNE

KASHMIR TRIBUNE

DELHI

DEHRADUN

DEHRADUN PLUS


10 lakh houses for urban poor soon: PM
Inaugurates Rs 2,400-crore housing project for slum-dwellers in Chandigarh
Chandigarh, September 14
Nearly 10 lakh houses would be constructed in several cities for the urban poor over the next four years under the Rajiv Awas Yojana, Prime Minister Manmohan Singh said on Saturday.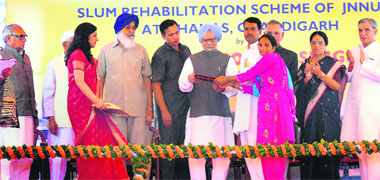 PM Manmohan Singh hands over the papers of a flat to a beneficiary at Dhanas village in Chandigarh on Saturday. Also seen are Haryana CM BS Hooda (extreme left), his Punjab counterpart PS Badal (3rd from left), Punjab Governor Shivraj Patil (3rd from right), Housing and Urban Poverty Alleviation Minister Girija Vyas (2nd from right) and local MP Pawan Kumar Bansal (extreme right). Tribune Photo: S.Chandan

OTHER PAGES

PUNJAB: Diversification plan takes root


HARYANA: Modi to sound poll bugle today


HIMACHAL: Panel to expedite hydroelectric projects


CHANDIGARH: A dream come true


LUDHIANA: Official's prescription to staff


DELHI: DUSU polls: ABVP bags three posts

BUSINESS: RBI offers banks two-day special funding window

PERSPECTIVE: 43 dead, parties counting votes

SPORTS: Yuvi keen to reclaim lost ground

WORLD: US, Russia forge deal on Syria


Lahore Log

The tribune guide to best colleges

Budget
2013-14

INDIA CHINA WAR 50 YEAR LATER

EARLIER FEATURES
13 Maoists killed in fierce Odisha gunbattle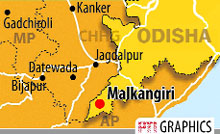 Malkangiri, September 14
At least 13 Maoists, including a woman, were killed in an encounter with security forces in a forest area of Malkangiri district early today. One rebel was captured after the encounter.
NIC meet to discuss UP riots on Sept 23


New Delhi, September 14
Days after communal riots in western parts of Uttar Pradesh, Prime Minister Manmohan Singh will chair a specially convened meeting of the National Integration Council (NIC) on September 23. It will discuss methods on how to combat communalism and casteism in the wake of Muzaffarnagar riots which claimed at least 40 lives.



PM, Sonia may visit riot-hit area tomorrow
BJP crowns Modi as PM candidate for 2014
September 14, 2013
BJP to decide on Modi as PM nominee today
September 13, 2013
Prosecution seeks death penalty for rapists; sentencing tomorrow
September 12, 2013
4 guilty of Dec 16 gang rape, murder
September 11, 2013
UP on edge as riots toll rises to 30
September 10, 2013
Muzaffarnagar clashes toll 21; Army out
September 9, 2013
Happy to work under Rahul in party: PM
September 8, 2013
House passes Bill to allow those in jail to contest polls
September 7, 2013
RS okays Bill to give Executive role in judges' appointment
September 6, 2013
SC turns down Centre's review plea on convicted lawmakers
September 5, 2013