LIFE+STYLE

CHANDIGARH

LUDHIANA

BATHINDA

JALANDHAR

AMRITSAR TRIBUNE

JALANDHAR TRIBUNE

BATHINDA TRIBUNE

JAMMU TRIBUNE

KASHMIR TRIBUNE

DELHI

DEHRADUN

DEHRADUN PLUS
Army payoff row: Govt to probe VK Singh's claims
Says Army has no business paying politicians
on-board the pm's special flight
September 25
A deeply concerned UPA government is planning to launch probes into the veracity of allegations levelled by former Army Chief VK Singh that the Indian Army had secretly funded certain ministers in Jammu and Kashmir to serve its unspecified ends.

Advani, Modi share stage at Bhopal rally
Rajnath, Venkaiah, Sushma, Joshi, Uma complete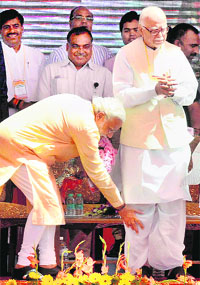 BJP's Kodak moment
New Delhi, September 25
It was the moment the BJP and its political mentor RSS had been waiting for to silence adversaries and sceptics. The show of strength at Bhopal finally saw party patriarch LK Advani and PM candidate Narendra Modi coming together publicly, giving the party the wow moment it had been looking for ever since the tumultuous Goa conclave.
BJP's PM nominee Narendra Modi seeks blessings of LK Advani at a rally in Bhopal on Wednesday. — PTI

OTHER PAGES

J&K: Agriculture Minister Mir breaks silence, pleads innocence


HIMACHAL: Govt-HPCA battle reaches BCCI


CHANDIGARH: More rail links from city soon


LUDHIANA: MC soft on politicians


DELHI: Cash van driver flees with Rs 54 lakh

OPINIONS: Merkel magic

BUSINESS: Equity infusion of Rs 3,574 cr in Air India put on hold

SPORTS: Modi out, but was he BCCI's only villain?

WORLD: Kenya mourns; search on for mall attack victims


Lahore Log

The tribune guide to best colleges

Budget
2013-14

INDIA CHINA WAR 50 YEAR LATER

EARLIER FEATURES
Lawmakers not working against judiciary: Sibal
Bathinda/Chandigarh, Sept 25
Union Law Minister Kapil Sibal today said the lawmakers of the country were not working at "cross purposes" with the judiciary, while referring to the ordinance issued to protect lawmakers upon conviction.
| | |
| --- | --- |
| | Union Minister Kapil Sibal looks on PPCC chief Partap Singh Bajwa shakes hands with former state finance minister Surinder Singla at Bathinda on Wednesday. Tribune photo: Pawan Sharma |
BCCI slaps life ban on Lalit Modi
Chennai/New Delhi, Sept 25
The BCCI on Wednesday banned for life Lalit Modi, former IPL chairman and commissioner, from all its activities on charges of serious misconduct and indiscipline.



Himachal page: Govt-HPCA battle reaches BCCI


Sports page: Modi out, but was he BCCI's only villain?


Festive damper: RBI bans 0% interest schemes for buying goods
Mumbai, September 25
The RBI today banned zero per cent interest rate scheme for purchase of consumer goods, a move intended to protect customers but may dampen the festive spirit. The central bank has also said that no additional charges can be levied on payment through debit cards.

Convicted lawmakers can contest polls
September 25, 2013
Crack down on communal elements, PM tells states
September 24, 2013
Suicide bombers kill 78 at Pak church
September 23, 2013
BCCI chief's son-in-law charged with betting, leaking team info
September 22, 2013
Home, car loans to cost more as RBI raises lending rates
September 21, 2013
Sensex rides on US stimulus, gallops to three-year high
September 20, 2013
Arrest warrants against 16 UP leaders for 'inciting' riots
September 19, 2013
Sharif presses for serious dialogue with India
September 18, 2013
PM, Sonia reach out to UP riot victims
September 17, 2013
In poll mode, Modi calls for strong leadership at Centre
September 16, 2013