LIFE+STYLE

CHANDIGARH

LUDHIANA

BATHINDA

JALANDHAR

AMRITSAR TRIBUNE

JALANDHAR TRIBUNE

BATHINDA TRIBUNE

JAMMU TRIBUNE

KASHMIR TRIBUNE

DELHI

DEHRADUN

DEHRADUN PLUS
Delhi to address Russia's N-liability concerns over Kudankulam reactors
October 21
India and Russia today underscored strengthening of the special and privileged partnership with both Prime Minister Manmohan Singh and President Vladimir Putin complimenting each other for the leadership that continues to provide momentum to the ties.


From bear hug to handshake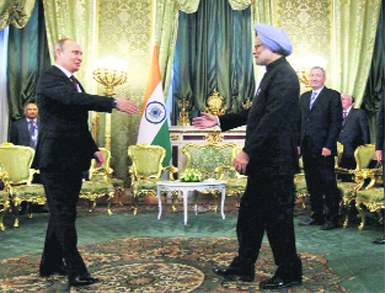 Prime Minister Manmohan Singh and Russian President Vladimir Putin greet each other in Moscow on Monday. — PTI


Editorial: Ties with Russia

OTHER PAGES

HARYANA: CPS Gujjar's arrest stayed


HIMACHAL: 'Frequent House disruptions harm democracy: Meira


CHANDIGARH: Boy gives kidnappers the slip


LUDHIANA: GLADA nets Rs 7.59 cr


DELHI: I'm not in race for any post, says Goel

OPINIONS: Ties with Russia


BUSINESS: FM's adviser against amendment of tax laws to raise revenue


SPORTS: Dhoni's SOS for fast bowlers

WORLD: France summons US diplomat over spy claims, seeks answers


Lahore Log

The tribune guide to best colleges

Budget
2013-14

INDIA CHINA WAR 50 YEAR LATER

EARLIER FEATURES
Punjab clears advance tax as BJP ministers object
Chandigarh, October 21
Despite objections raised by the BJP on the imposition of advance tax in lieu of entry tax on goods, the SAD-led Punjab government today approved the amendments to the proposed advance tax and gave the go- ahead for its formal notification.
Rasheed Masood is first MP to lose seat after conviction
New Delhi, October 21
Rajya Sabha member Rasheed Masood of the Congress was today disqualified from the Upper House after he was found guilty of criminal conspiracy, cheating and forgery in allocating seats in a medical college.
Now, Pak army shifts focus to border
Army Chief briefs Antony about situation along LoC
New Delhi, October 21
Even as top Army commanders began their five-day conference to discuss developments along the Line of Control (LoC), Army Chief General Bikram Singh briefed Defence Minister AK Antony separately on the situation on the LoC and the International Border (IB).
Punjab Shamlat Plunder-2
Moga village panchayat losing Rs 25 crore a year
Locals encroach upon 900 acres of jagir patti land worth over RS 250 cr in Charik village
Moga, October 21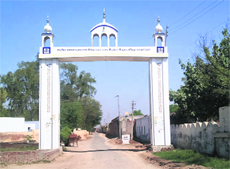 In 1954, 900 acres of jagir patti land worth more than Rs 250 crore was declared surplus during the land consolidation drive. It was to be transferred to the panchayat in Charik village of the Moga district.
The entry point of Charik village in Moga district


Army's claim over Keran ops under lens
October 21, 2013

PMO defends Odisha coal block allocation, says it was 'on merit'
October 20, 2013
US ship crew under arrest; arms seized
October 19, 2013
US shutdown is over
October 18, 2013
PM took final decision on allocations:
Ex-Coal Secy
October 17, 2013
Coal scam: CBI books Birla, former Secretary
October 16, 2013
Flood challenge in Phailin's wake
October 15, 2013
109 killed in MP temple stampede
October 14, 2013
Phailin fury strikes Odisha, north Andhra
October 13, 2013
Odisha, AP brace for severe cyclone
October 12, 2013