LIFE+STYLE

CHANDIGARH

LUDHIANA

BATHINDA

JALANDHAR

AMRITSAR TRIBUNE

JALANDHAR TRIBUNE

BATHINDA TRIBUNE

JAMMU TRIBUNE

KASHMIR TRIBUNE

DELHI

DEHRADUN

DEHRADUN PLUS


Uttarakhand Govt slaps 81 cases on Ramdev's Patanjali trust
Cases relate to illegal possession of land,
benami transactions
Dehradun, November 20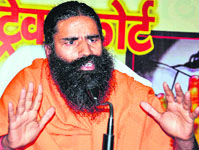 A thorn in the eyes of the UPA-led Congress government, the Uttarakhand government has finally nailed Yoga Guru Ramdev by registering 81 cases against Patanjali Yogpeeth Trust in Haridwar pertaining to illegal possession of Gram Sabha and government land, benami transactions and undervaluation of stamp duty causing loss of revenue worth crores to the state.
Agusta copters were exactly what we wanted: Air Chief
Halwara, November 20


As the Centre moved ahead to complete the formalities of cancelling the controversy- ridden AgustaWestland VVIP helicopter deal, Chief of Air Staff Air Chief Marshal NAK Browne on Wednesday said there was no problem with the machines.
OTHER PAGES

PUNJAB: Justice Kuldip tribunal reveals 'forgery' in Abhipur records


J&K: Power staff accuses authorities of forcing them to inflate bills


HIMACHAL: 17 hotels lose power connections in state


CHANDIGARH:
Earthmovers level half of Colony No. 5


LUDHIANA: IAF displays might of air prowess


DELHI: Cong manifesto promises inclusive growth, sanitation

OPINIONS: All play, no work


NATION: Congress talks inclusive growth, AAP banks on Delhi Jan Lokpal


SPORTS: India look to extend domination

WORLD: US won't use drones during Taliban talks: Pak



Lahore Log

The tribune guide to best colleges

Budget
2013-14

INDIA CHINA WAR 50 YEAR LATER

EARLIER FEATURES
J-K MBBS scam


Crime Branch grills exam board ex-chief
Srinagar, November 20
Jammu and Kashmir Crime Branch today summoned and questioned Mushtaq Peer, examining body's former chairman who is suspected of selling entrance test papers for selection to region's medical colleges.
Punjab refuses 5-star facility to HC judges in Amritsar
Chandigarh, November 20
The Punjab Government has refused to concede to the demand of the Punjab and Haryana High Court for the construction of an "exclusive five-star guest house" for judges in Amritsar.
Dairy farming spurs women empowerment in Haryana
Karnal, November 20
Empowering women, especially in rural areas, has always been a major challenge, but the active participation of women in the cooperative movement in Haryana, especially in the dairy sector, has shown the way.


Punjab Land Grab: Justice Kuldip Singh Special Tribunal Report Part XII
Tribunal advocates Special High Court Bench, CBI probe
Chandigarh, November 20
The Special Tribunal headed by Justice Kuldip Singh has recommended that some authority like CBI should be entrusted with the criminal investigations into the "land grab cases" involving public lands in Punjab villages around Chandigarh.
Govt all set to scrap VVIP copter deal with Agusta
November 20, 2013

Cong goes to EC against Modi as poll fever peaks
November 19, 2013
Manmohan takes on Modi
November 18, 2013
Bharat Ratna for Sachin, top scientist Rao
November 17, 2013
Only BJP in favour of opinion polls
November 16, 2013
India, UK to deepen trade ties, boost investments
November 15, 2013
Courts deal twin blows to Hooda govt
November 14, 2013
For meaningful talks, respect India's views: Khurshid to Pak
November 13, 2013
CBI must work under govt: PM
November 12, 2013
Hooda pleases all at Gohana show
November 11, 2013