Haryana wants CBI probe into Khemka's role in Rs 8-cr deal
Chandigarh, January 18


The Haryana Government has decided to recommend a CBI probe into alleged irregularities in awarding a Rs 8-crore deal to a Gujarat-based firm during whistleblower IAS officer Ashok Khemka's tenure as the Managing Director of the Haryana Warehousing Corporation in 2009.
Ashok Khemka
Congress divides on religious lines: BJP
Art 370 okay if it helps J&K grow: Rajnath
New Delhi, January 18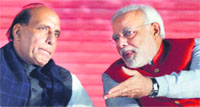 The BJP on Saturday accused the Congress-led UPA of dividing the country on religious lines and ruining its economy.
BJP chief Rajnath Singh with party's PM nominee Narendra Modi at the National Council meeting in New Delhi on Saturday. tribune Photo
Docs: Sunanda's death sudden, unnatural
New Delhi, January 18
A medical board of forensic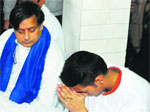 experts constituted by the All-India Institute of Medical Sciences (AIIMS) to probe the cause of Sunanda Pushkar's death today said her post-mortem examination suggested an "unnatural, sudden death".
Sunanda Pushkar's husband Shashi Tharoor and her son Shiv Menon at the cremation.

OTHER PAGES

HARYANA: Fissures in Cong to the fore


HIMACHAL: Govt exempts religious bodies from land ceiling


CHANDIGARH: Brace for power shocker


LUDHIANA: Staff shortage cripples MC


DELHI: Police hiding its inability: CM

OPINIONS: Anger fine, Rahul needs a compelling narrative


NATION: Cong forms Punjab poll panel, picks young MPs as members


SPORTS: Rafa in rampaging form

WORLD: 13 foreigners among 21 killed in Kabul


The tribune yearender 2013 : year of corrosion

Lahore Log

The tribune guide to best colleges

Budget
2013-14

INDIA CHINA WAR 50 YEAR LATER

EARLIER FEATURES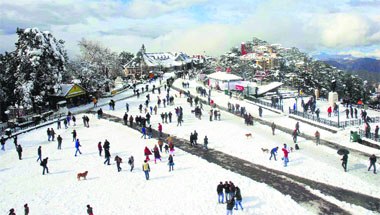 Tourists and locals throng the Ridge after fresh snowfall on Saturday. Shimla received season's heaviest snowfall with the entire town donning a white mantle. Photo: Amit Kanwar
Cong forms Punjab poll panel, picks young MPs as members
New Delhi, January 18
Young Lok Sabha members of Team Rahul are part of the newly constituted Punjab Pradesh Election Committee, which will hold its first meeting on January 21. Sangrur MP Vijayinder Singla and Anandpur Sahib MP Ravneet Bittu have been included in the 24-member committee whose role would be to shortlist candidates for the forthcoming Lok Sabha elections and hand over the list to the LS candidate screening committee constituted by the Congress high command recently. (Details on Nation page)


JK MBBS scam: Jail for 6 students, parents
Srinagar, January 18
A special anti-corruption court in Srinagar sent six MBBS students and six parents of "beneficiary" students to jail under judicial custody on Saturday. The court directed the Crime Branch, investigating the scam into the sale of Common Entrance Test (CET)-2012 question papers for selection into medical colleges, to produce the others named in the chargesheet by January 28.
Tharoor's wife found dead in Delhi hotel
January 18, 2014
Rahul won't be PM nominee, but will lead campaign 2014
January 17, 2014
Intern's plea: SC notice to Justice Swatanter Kumar
January 16, 2014
Cameron orders probe into Thatcher link
January 15, 2014
Revoking AFSPA will not help Kashmir: Army Chief
January 14, 2014
India offers DGMO-level talks with China
January 13, 2014
Moily wants SC's ex-judge probed
January 12, 2014
India 'expels' US diplomat after Devyani indicted in NY
January 11, 2014
US court rejects Devyani's plea
January 10, 2014
Better times ahead, PM assures diaspora
January 9, 2014