HC to Haryana: No building licence without notification
Chandigarh, January 23
The Punjab and Haryana High Court today directed against the issuance of fresh licences to the builders and stall further land acquisition process in its part of the National Capital Region till the notification of the sub regional plan. The directions by the Division Bench of Chief Justice Sanjay Kishan Kaul and Justice Arun Palli came on a petition filed by Rishi Dagar and Chandra Shekhar against the Union of India and other respondents.
Village head 'orders' rape in WB
Kolkata, January 23
A 19-year-old tribal woman was gang-raped at Labpur village in Birbhum district, allegedly on the orders of the local gram pradhan, as punishment for falling in love with a man from a different community, triggering outrage. West Bengal Chief Minister Mamata Banerjee ordered the removal of Birbhum Superintendent of Police C Sudhakar. Thirteen persons, including the pradhan and three Trinamool workers, have been arrested for the brutal assault and sent to 14-day judicial custody.
Pathribal case: Army's clean chit to 5 officers
Jammu, January 23
The Army on Thursday gave a clean chit to five of its officers allegedly involved in the Pathribal encounter that took place in Anantnag district of Kashmir in March 2000. Following the CBI investigation and the Supreme Court's March 2012 order, the Army had taken over the Pathribal case from the court of the Srinagar Chief Judicial Magistrate (CJM) in June 2012. Jammu-based Defence spokesperson Lt Col Manish Mehta said the evidence recorded could not establish a prime facie case against the five accused officers.

OTHER PAGES

HARYANA: 'Indicted' CPS Fauji on his way out


HIMACHAL: Rs 180-crore channelisation project to check flood fury


CHANDIGARH: Girl crushed under CTU bus


LUDHIANA: Police crackdown on fake VIPs


DELHI: Cabinet may clear Jan Lokpal Bill today

OPINIONS: Tough action

BUSINESS: RBI: Job creation must for economic success

SPORTS: Wawrinka's wait almost over

WORLD: UN bid to bring warring sides together in Syria


The tribune yearender 2013 : year of corrosion

Lahore Log

The tribune guide to best colleges

Budget
2013-14

INDIA CHINA WAR 50 YEAR LATER

EARLIER FEATURES
Court raps Delhi Police for inaction; AAP backs Bharti
New Delhi, January 23
Pressure is mounting on the Delhi Government to take action against its Law Minister Somnath Bharti for allegedly misbehaving with a Ugandan woman in the light of a city court rapping Delhi Police for its failure to take action on the victim's plea to lodge an FIR against the mob allegedly led by the minister during a raid at Khirki Extension in South Delhi on January 15.
Phone tapping: Vigilance grills HP Police chief
Shimla, January 23
The State Vigilance and Anti-Corruption Bureau of Himachal Pradesh has recorded the statement of Director General of Police (Home Guard) ID Bhandari in the phone tapping case. A team headed by an SP is likely to go to Hyderabad within a week to question former DGP B Kamal Kumar.
Faith factor: US military eases regulations on turbans, beards
Sacramento, January 23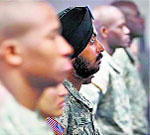 The US military has eased its uniform rules giving troops greater freedom to wear turbans, head scarves, yarmulkes and other religious clothing.
The Pentagon earlier made only a small number of accommodations to its uniform policy to enable Sikhs to wear turbans.
Pressure on Kejriwal to act against Bharti
January 23, 2014
Capital compromise: Kejri stir off
January 22, 2014
Kejriwal fights Centre on streets
January 21, 2014
Pak detains 27 Indian truckers at LoC
January 20, 2014
India, Pak to open Wagah border 24x7 for trade
January 19, 2014
Tharoor's wife found dead in Delhi hotel
January 18, 2014
Rahul won't be PM nominee, but will lead campaign 2014
January 17, 2014
Intern's plea: SC notice to Justice Swatanter Kumar
January 16, 2014
Cameron orders probe into Thatcher link
January 15, 2014
Revoking AFSPA will not help Kashmir: Army Chief
January 14, 2014
India offers DGMO-level talks with China
January 13, 2014
Moily wants SC's ex-judge probed
January 12, 2014