SC orders stay on Bhullar's execution


New Delhi, January 31
The Supreme Court today stayed the execution of Devender Pal Singh Bhullar on a petition filed by his wife Navneet Kaur seeking commutation of the death penalty awarded to him in the 1993 bomb attack case.
Sirsa man rapes ex-lover, attacks her with acid
Sirsa, January 31
A man first allegedly raped his former live-in partner and then poured acid on her at Sirsa's Rania town on Thursday. The victim received acid burns on her face, arms and a knee and she was shifted to the Sirsa General Hospital. The police have booked Ramesh Kumar of Dhani Shaminder Singh village for rape, assault and criminal intimidation and efforts were on to arrest him.
Delhi fracas: Arunachal MLA's son dies


New Delhi, January 31
The son of an Arunachal Pradesh MLA died here after he was allegedly beaten up by some shopkeepers following an altercation sparked by taunts on his hair colour. Social activists and twitter remarks see the incident as yet another case of North-East people increasingly becoming a target of attacks in different parts of the country.


OTHER PAGES

J&K: Pathribal case: Kashmir shuts in protest against Army verdict


HIMACHAL: Viplove elected to Rajya Sabha


CHANDIGARH: Robbers strike at will on city roads


LUDHIANA: Iron hand in velvet glove


DELHI: Delhiites to pay more for power from today

OPINIONS: Tenure turbulence


NATION: AAP to field candidates against all 'corrupt leaders', says Kejriwal


BUSINESS: Govt lowers FY13 GDP growth to 4.5% from 5%

SPORTS: Kiwis leave India shell-shocked

WORLD: Ukraine Prez approves amnesty, repeals anti-protest legislation


The tribune yearender 2013 : year of corrosion

Lahore Log

The tribune guide to best colleges

Budget
2013-14

INDIA CHINA WAR 50 YEAR LATER

EARLIER FEATURES
Delhi cop assaults Tribune lensman
New Delhi, January 31
A photographer of The Tribune, Manas Ranjan Bhui, was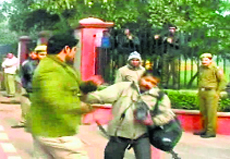 assaulted by a Delhi Police constable while taking pictures of a rampaging elephant in central Delhi this afternoon. The constable, Sandeep Twetia, posted at the Desh Bandhu Gupta Road police station has been suspended.
A video grab of a Delhi Police constable slapping The Tribune photojournalist Manas Ranjan Bhui near Rajghat in New Delhi.

US downgrades India's aviation safety ranking
New Delhi, January 31
The US Federal Aviation Administration (FAA) today downgraded India's aviation safety ranking to category 2, putting it below Pakistan and on a par with countries such as Zimbabwe and Bangladesh. The FAA's reassessment of India's aviation regulator —the Director General of Civil Aviation (DGCA) — under the International Aviation Safety Assessment (IASA) programme was conveyed to DGCA new chief Prabhat Kumar this afternoon.
Cap on subsidised LPG cylinders up from 9 to 12
January 31, 2014
SIT to probe '84 riots: Delhi Govt
January 30, 2014
NC-Congress alliance in big trouble, Omar may quit
January 29, 2014
Selja, Viplove get Congress nomination for RS polls
January 28, 2014
No N-deal but boost for Indo-Japan defence ties
January 26, 2014
SC raps police over AAP dharna
January 25, 2014
RBI Governor allays concerns on withdrawal of pre-2005 notes
January 24, 2014
Pressure on Kejriwal to act against Bharti
January 23, 2014
Capital compromise: Kejri stir off
January 22, 2014
Kejriwal fights Centre on streets
January 21, 2014