ENTERTAINMENT

FOOD TALK

CONSUMERS BEWARE!

FITNESS MANTRA

GOOD MOTORING

LIFE'S LESSONS

MUSIC ZONE

FRUIT FACTS

WEBSIDE HUMOUR

CROSSWORD

WEEKLY HOROSCOPE
EARLIER FEATURE

CHANNEL SURFER

ULTA-PULTA

TELEVISION

GLOBOSCOPE

GARDEN LIFE

NATURE

FASHION

BRIDGE
To the end of our days
The eminent author shares a story that he has written exclusively for The Tribune, with which he has had a bond ever since the newspaper was published from Ambala
Ruskin Bond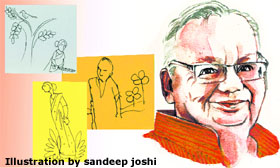 Six, or seven — that's the age at which our essential tastes, even our obsessions — begin to be stamped on us by outside impressions. They are never eradicated, even when we think we have forgotten them. To my dying day I shall have a special fondness for the cosmos flower because I remember walking through a forest of them — or what seemed like a forest — when I was five or six. White, light purple, magenta, those fresh-faced flowers nodded to me as I played on the lawns of the Jamnagar palace grounds; and today more than seventy years later, whenever I see the cosmos in flower, I go among them, for they are eternal even if I am not.
Everlasting Bond with the hills
In an age where writers are making headlines and are heard more than they are read, Ruskin Bond prefers to let his pen do the talking. He writes stories straight from the heart
Aruti Nayar
He is the quintessential writer who captures the myriad shades of nature like a miniature artist. He has brought immense joy to many a child by weaving a world that is as authentic as it is imaginative. Writing unhurriedly at his own pace in Ivy Cottage, Landour, Mussoorie, he is "one of the biggest tourist attractions" of the tiny hillstation.
---
'Art & Soul
'He who rode a tiger'
Jhajjar, a small state in Haryana, and the colourful style of its last Nawab come alive as one comes across some recently published paintings
B.N.Goswamy
When we were young, we used to hear a Haryanvi saying: "Arre beta, Jhajjar mein paida hua, key jaane Rohtak ki bahaar!" Meaning, of course — using the little town of Jhajjar and the much larger town of Rohtak, as points of comparison — 'what would a country bumpkin know anything about the world at large?' In other words, Jhajjar is after all, only Jhajjar; Rohtak is another world.
---
Focus
The key to good results
Time management and good planning can be a good tool for cracking the code for succeeding in Board examinations
Dr Samir Parikh
Do you often feel like 24 hours just aren't enough? Have you ended up skipping meals because you simply because there wasn't enough time to eat? Time is something that we all grapple to keep up with and feel it slipping through our hands just when we need it the most.

Health Capsules
---
Society
The Crucible
With the advent of global warming, the whole world has been put to a test
Deepak Rikhye
Once upon a time in the distant past, the Earth was a paradise and inspired John Milton to describe our planet as "A heav'n on earth." We could be losing some of the splendour that the Earth has been blessed with. The beauty we take so much for granted has ,very slowly, shown signs of a reaction, to the extent that parts of the earth could give way to water.
---
Travel
A pot of luck
Beautiful, whimsical, ethereal — ceramics and pottery of Staffordshire have been brought together under one roof at the Wedgwood Museum at Stoke-on-Trent in England
Nivedita Choudhuri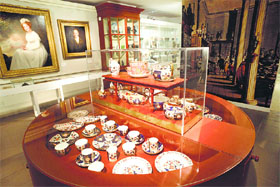 Stoke-on-Trent shot into the limelight a few years ago as the birthplace of singer-songwriter, occasional actor and member of the celebrated pop group Take That, Robbie Williams. But the town first achieved fame at least 200 years before Williams' birth when Josiah Wedgwood started to convert his dazzling designs into mass-produced ceramics and the town in the county of Staffordshire became the hub of the pottery industry in England.

Pottery display inside the Wedgwood Museum

Globetrotting
---
Entertainment
Twinkle, twinkle, the lost star
Many a child was tempted to enter the film world after actors like Baby Naaz, Baby Guddu and Jugal Hansraj made it big on the cinemascope. However, many of these popular child stars have not been able make the transition to stardom as adults
Shoma A. Chatterji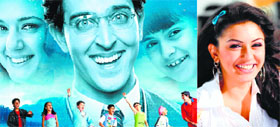 What happened to Jackie Coogan the little boy who broke glass windows by pelting stones at them in Charlie Chaplin's The Kid (1921)? Or to Enzo Staiola who featured in The Bicycle Thieves (1948)? No one knows what happened to Henry J. Thomas, the protagonist in E.T.

Hansika Motwani (right) acted as a child star with Hrithik Roshan and Preity Zinty in Koi Mil Gaya

'I am a happily married man'
Farhan Akhtar is grinning from ear-to-ear after sweeping Best Actor trophies for Bhaag Milkha Bhaag at leading award functions. The actor chats up about his new film Shaadi Ke Side Effects
Sreya Basu
Why is Shaadi Ke Side Effects a special film for you?
Shaadi Ke Side Effects has a classic format of a romcom. It is the only film I have done so far where there was so much humour. Besides, most films on marriage made, so far, are serious ones, while most romcoms are about an individual, who is single, and at the end of the film, gets hitched. So it is quite different in that aspect.
---