ENTERTAINMENT

FOOD TALK

CONSUMERS BEWARE!

GOOD MOTORING

LIFE'S LESSONS

MUSIC ZONE

FRUIT FACTS

WEBSIDE HUMOUR

CROSSWORD

WEEKLY HOROSCOPE
EARLIER FEATURE

CHANNEL SURFER

ULTA-PULTA

TELEVISION

GLOBOSCOPE

GARDEN LIFE

NATURE

FASHION

BRIDGE

Soul music goes hep
From dargahs to modern-day studios, Sufi music is becoming the toast of the young generation
Jasmine Singh
He smiles like a child who has taken to the stage for the first time, a child who has rehearsed well before his mother. With that childlike smile still on his lips, Sufi singer Kanwar Grewal closes his eyes. He has a quick communication to make with the Almighty. Then he opens his eyes and notes begin to spill from the lips of this malang(wanderer), "Na jaaye mastaan dey veydey mast bana daingey biba."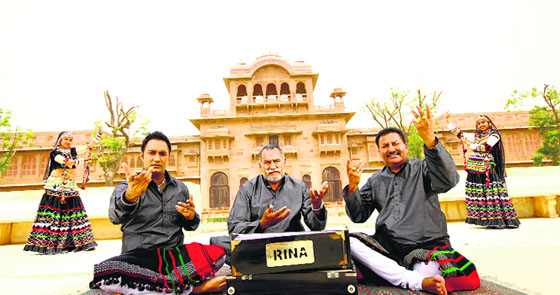 From left:

Lakhwinder Wadali (Puran Chand Wadali's son), Puran Chand Wadali, Pyarelal Wadali
---
Arts
'Art & Soul
The canticle of the birds
Words, images, poetry and mysticism, all come together in this sumptuous new volume of Mantiq-ut Tayer, Islam's greatest literary masterpiece
b.n. goswamy

O 'Attar, with these mysteries' musky scent
You've filled the wide world and its firmament
— the Mantiq-ut Tayer
A Sufi once heard a man crying. 'I have lost a key. Has anyone found it anywhere? The door of my house is shut and I am left without a shelter in the street! If the door remains closed, what shall I do? I shall be forever miserable. What shall I do?' 'Who wishes you to be miserable?', asked the Sufi. 'Since you know where the door is, go and stay near it, even though it be closed. If you sit near it for a long time, there is no doubt that someone will open it for you. Your condition is not so bad as mine. My soul is consumed in stupefaction. Of the great enigma that bewilders me, there is no solution. There is neither a door nor a key for me.'"

Broad Brush
---
Fitness
good health
A fat lot of good
Apart from being heart healthy, omega 3 fats can boost immunity and protect against arthritis, asthma, psoriasis, PMS and certain types of cancer
Dr Ishi Khosla
These days, many people are taking fish oil supplements, which contain omega-3 fatty acids, either on their own or on physician's advice. Driving this trend is accumulating data from observational and clinical trials that these lipids actually reduce risk of heart disease. However, there are several other wide-ranging benefits of consuming these special fatty acids. These include boosting immunity, anti-inflammatory properties, protection against arthritis, asthma, psoriasis, PMS (pre-menstrual syndrome) and certain types of cancer. Where anti-depressant medications have failed, it is worth trying omega-3 fats through supplements or fish. Intake of omega-3 fats has also been found to help patients of schizophrenia, manic depression, mood instabilities and bipolar disorders.
Keep it straight
Sitting for long hours in an incorrect posture can cause back and neck pain
Dr Gerd Mueller
In today's hectic times, many hours are spent at offices. On an average, a person sits more than eight hours a day at work. Many of us do not take required number of frequent eye or leg breaks and eventually develop many body ailments, most common of which are back and neck pain. Lack of proper knowledge and guidance coupled with a careless attitude towards health are the main culprits.
---
Society
Thanks to her, nomads can now vote
Thirtytwo-year-old Mittal Patel, a former journalist-turned-activist, strives to provide an identity to five million people belonging to the 40 nomadic communities in Gujarat. About 50 per cent of them are still leading a nomadic life
Kavita Kanan Chandra
In India, eight to 10 per cent of our population comprises nomadic tribes that constitute a sizeable 10 crore people. Through her NGO, (VSSM) or Vicharata Samuday Samarthan Manch, a nomadic community support platform, Mittal Patel works for the uplift of 28 nomadic and 12 denotified tribes in nine districts of Gujarat. In 2006, her efforts bore fruit as five million nomads were included in the Census for the first time. In 2008, voter ID cards were given to 20,000 nomads for the first time. Till now, 60,000 nomads have got their voter ID cards and the process is ongoing.
---
Travel
Where history meets Skype
Said to be the best and most well-preserved medieval town in northern Europe, Tallinn in Estonia has also been listed among the top 10 digital cities in the world
Ranjita Biswas
A song can evoke a sense of self-determination and yearning for independence. Across the seas in Estonia it was the same. The very essence of protest against foreign rule in Estonia is rooted in the Estonian Song Festival. It goes back to 1869 when Johann Voldemar Jannsen composed his famous My Fatherland, My Happiness and Joy which became Estonia's national anthem. The country at that time was under Russian rule. Estonians gathered at "Lauluväljak" — the famous song festival ground in Tallinn, capital of the country, every five years and sang this national song defiantly. After a brief spell of freedom, Estonia again went under Soviet Russia. But people continued to sing this song at the conclusion of the annual festival nonetheless. So in 1991, when the country became free, people said it was due to the 'Song Revolution'.

Globetrotting
---
Entertainment
Tale of two states
There is nothing new in the theme of movies based on inter-regional and inter-linguistic marriages in India
Shoma A. Chatterji
The hyped promos and high-end marketing strategies of Chetan Bhagat's 2 States and A Marriage turned 2 States, a full-length feature film is practically coming out of our ears. It suggests that this is a unique film on inter-regional and inter-linguistic marriages in India. But is 2 States about the love between the Punjabi Krish Malhotra and the South Indian Ananya Swaminathan the first film on cultural symphony through marriage? Not really. Director Abhishek Verman has given us nothing new or original to shout across the rooftops about. It began with New Delhi (1956) starring Kishore Kumar and Vyjayanthimala and was a boxoffice hit. Then there is Ek Duje Ke Liye (1981), another film called Ragini (1958) with Kishore Kumar, Ashok Kumar, Ragini and Padmini. So, what's new?

A class apart
Sharda Kaushik
Prof. Anil Zankar is known for his contribution to the film industry. With 22 short films, two books on cinema, two National Awards, one for a feature script-writing competition organised by the NFDC in 1982 and the other for his book on the History of World Cinema, won in 1997. Zankar has more than 30 years of professional experience in writing for films, making films, teaching and media planning. Excerpts from an interview:
---