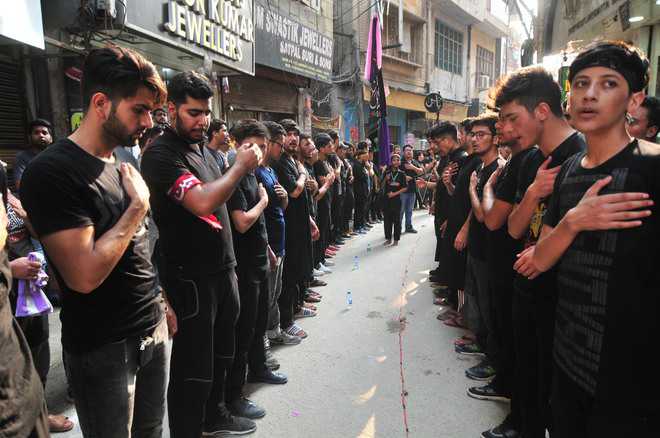 editorial@tribune.com
Tribune News Service
Jammu, September 10
On the 10th day of Muharram, Shia Muslims took out a procession in Jammu to mourn the martyrs of Karbala.
The procession was taken out from Ziyarat Peer Mitha under the banner of Anjuman-e-Imamia, Jammu, in which hundreds of Muslims participated to pay homage to Imam Hussain.
Religious scholars delivered speeches about the battle of Karbala. Molana Syed Jalal Haider Naqvi, secretary, Ulema-e-Hind, New Delh,i in his address stressed upon the need to follow the teachings of Imam Hussain who fought against tyranny of the then rulers. After passing through the traditional route, the procession culminated at Karbala complex in the old city.
A separate procession was also taken out from Anjuman-e-Haidery, New Plot and merged with the main procession.
Vice president Anuman-e-Miamian, Jammu Syed Afar Hussain Kazmi and Prof Sujat Khan shared their views on Moharram and its importance for the Muslims and humanity.
As per the press note, Ashura, on the 10th day of Muharram, Imam Hussain and 72 companions laid their lives and saved humanity and the values of Islam.
Cities