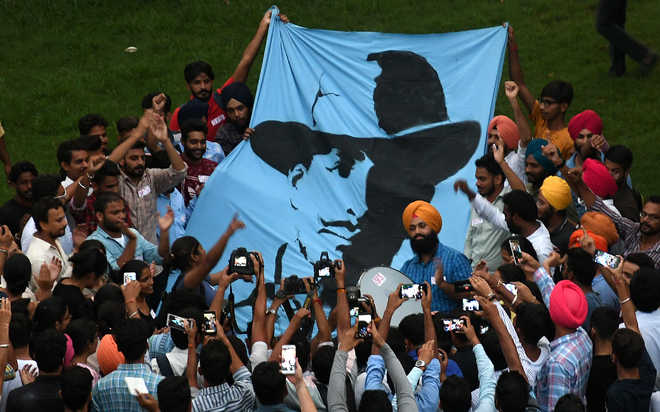 editorial@tribune.com
Sandeep Rana
Tribune News Service
Chandigarh, September 6
Tambourine or dafli, an instrument the Students for Society (SFS) is smbolised with, did the magic as the party won the top post in the Panjab University Campus Students' Council.
During the campaigning, tambourine acted as a student mobiliser. After the party won the council president's seat, the musical instrument was a symbol of the celebrations.
It was the driving force in every street play, sloganeering, party songs and other student-mobilising events during the party's campaigning days.
"I have been playing dafli since 2013 in every party event. It was gifted to me by a street play artiste, Samuel John. As I start beating it, our supporters gather at a place. It is also a symbol of unity for us," said Amritpal Singh, a senior member of the party.
"It is also a symbol of struggle for people's welfare. It is also symbolises happiness. During our events, it plays an important role," added the PU's history scholar.
Amritpal, who contested unsuccessfully for the post of president in 2016, recalled how during their protest against fee hike in 2014, the police hit him with a stick on the hand for beating dafli.
The party started celebrating about an hour before the results were announced on Thursday.
Amritpal stood near the open ground in front of the Student Centre and started beating the tambourine. As he played it, fellow supporters rushed towards him. They danced, sang and raised slogans of their party."
---
SIDELIGHTS
The AC Joshi Library on the PU campus remained closed, probably for the first time

No major car rallies were witnessed during the celebrations

There were relatively very less brochures, posters or banners, which litter the campus on the D-day

Some party leaders had heated arguments during counting of votes

Since a woman candidate won the post of president, a large number of girls were present during the celebrations. Generally, it is boys who are part of the crowd during the celebrations

A PU road and the roundabout near the gymnasium hall, the venue for counting of votes, were jampacked with students celebrating in large numbers