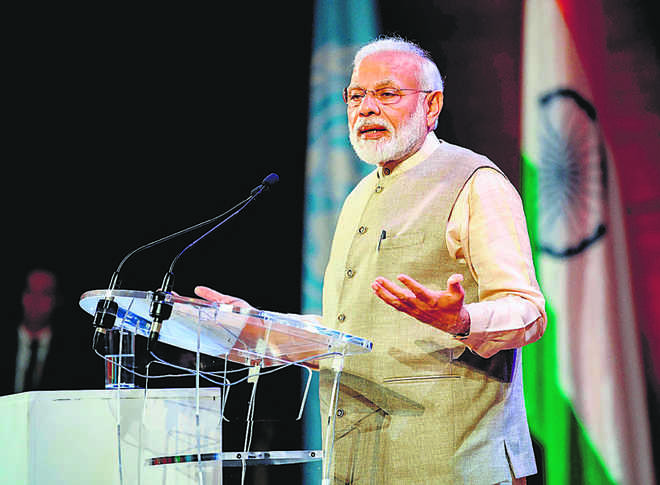 shalender@tribune.com
New Delhi, August 23
Prime Minister Narendra Modi said today the government had taken major decisions, such as banning triple talaq, in keeping with the resounding mandate to the BJP in the 2019 Lok Sabha polls for building a 'New India'. His tenure as PM, he said, had seen a "never before" reining in of corruption, nepotism, loot of people's money and terrorism.
Addressing the Indian community at the UNESCO headquarters in Paris, PM Modi did not bring up the scrapping of Article 370 upfront, but made a veiled reference by stating that "there is no scope for temporary in India". Modi was in France on the first leg of his three-nation tour. "India is racing ahead not because of Modi. It is because of the stamp of approval that the people of India have given in the form of votes,'' he said amidst loud cheering.
"Inspired by the mantra of clear policy and right direction, one after another several major decisions have been taken by the government,"he said. He said his mandate was not just to run the government but to build a 'New India' whose enriched culture the world would be proud of. India would achieve most of the COP 21 climate change goals set for 2030, in the next year and a half and would be free of tuberculosis in 2025, five years ahead of the global target of 2030.
Before his address, PM Modi inaugurated a memorial in honour of the victims of two Air India crashes in France in the 1950s and 1960s. The memorial, on a desolate mountain, was inaugurated via video- conferencing.
Earlier, emerging from a bilateral meeting with PM Modi, French President Emmanuel Macron hailed him for his "spirit of responsibility and decisiveness". The two leaders discussed cooperation in space, maritime domain, training of Indian astronauts and France's participation in India's Venus mission. Macron said they had confirmed the goal of crossing decisive stages for the multi-billion dollar Jaitapur nuclear power project by year-end. — TNS
Top Stories