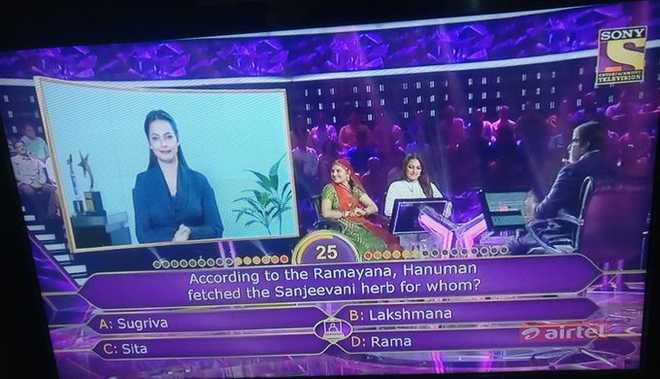 monicakchauhan@gmail.com
Tribune Web Desk
Chandigarh, September 21
Actor Sonakshi Sinha, who is on vacation in Maldives, is not only trending, but also being trolled over twitter for all the wrong reason.
The actor failed to answer a simple question related to Ramayana on Kaun Banega Crorepati. The episode was aired on TV on Friday night.
Sonakshi had participated in the episode with her co-contestant Ruma Devi, president of Gramin Vikas Evam Chetna Sansthan, an NGO in Barmer.
The question they were asked was: According to the Ramayana, Hanuman fetched the Sanjeevani herb for whom?
The given four options were: Sugreev, Laxman, Sita and Ram.
Sonakshi thought it was Sita, while her co-contestant Ruma Devi was keen on Laxman, however, a lifeline was used.
But by then, the actor had started receiving a backlash on social media for not being able to answer the question, and also when names of people in her family are mostly based on Ramayana.
Some even compared her to Alia Bhatt, who got labelled as a dumb actress after her appearance on a chat show.
"Who is most dumb female actress in Bollywood? Me: Alia Bhatt. Amit Ji: #YoSonakshiSoDumb."
Names of few people from #SonakshiSinha
's family:
Shatrughan (Dad)
Luv (Brother)
Kush (Brother)
Ram (Uncle)
Lakshman (Uncle)
Bharat (Uncle)
Name of his father's residence: RAMAYANA
Now watch this video to know why #YoSonakshiSoDumb is trending. pic.twitter.com/mlBsHPee2P

— Tejas (@imTejasBarot) September 21, 2019