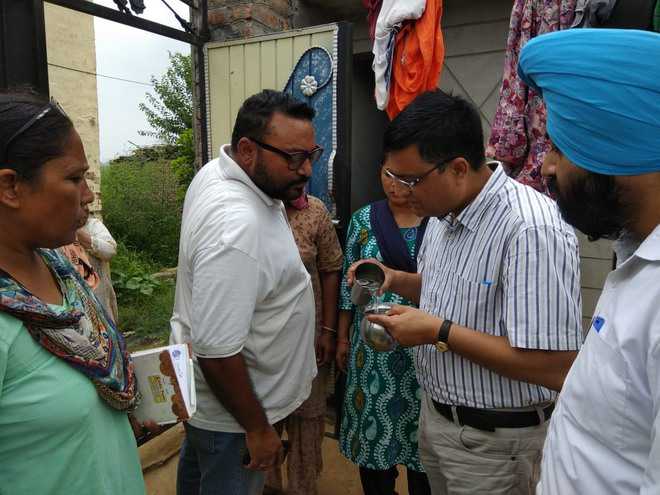 editorial@tribune.com
Manav Mander
Tribune News Service
Ludhiana, August 29
As many as 10 cases of diarrhoea were reported from Deep Nagar, Mullanpur, on Wednesday.
Residents of the area have been getting contaminated drinking water supply from the past couple of days after the construction of roads started in the area. The area was dug too deep and the polluted water from the sewerage pipes got mixed with water.
The Health team from Ludhiana, headed by District Epidemiologist Dr Ramesh, visited the area and did door-to-door survey and found eight new patients, while two were admitted to the hospital. No causality has been reported.
"We got a call from a hospital that many cases of diarrhoea were being reported from the area. We immediately visited the area and took stock of the situation. The residents are getting contaminated water supply due to which the problem is occurring. A total of 10 cases were detected from the area," said Dr Ramesh.
Sukhminder Singh, an area resident, said they had been getting contaminated water supply from the past couple of days. "I have been buying bottled water as I did not want to take chance with the health of my kids," he said.
Another area resident said his son had been complaining of loose motions since Tuesday night. "On Wednesday, I took him to the doctor and he is better now. The water supply at our home is not safe. We have been getting mud coloured water from the past few days," he said.
Precautions
Boil water before drinking
Avoid eating street food
Avoid eating over ripe fruits and vegetables
Eat properly cooked, steaming hot food.
Symptoms
Pain and cramps in abdomen, nausea, vomiting, loose motions
2 test positive for dengue
Two patients have tested positive for dengue. One patient belongs to Ludhiana and is admitted to the PGI, while the other patient is from Khanna and is admitted to the Rajinder Hospital.