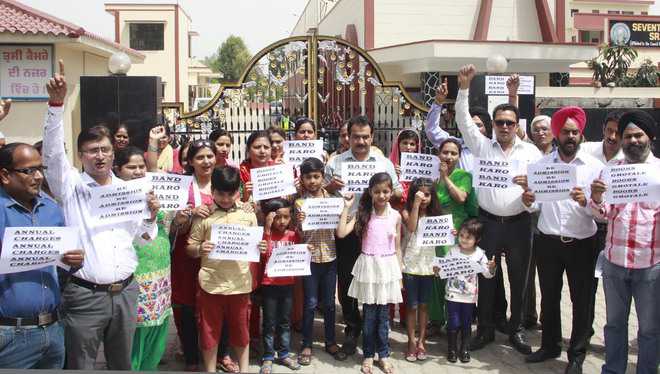 editorial@tribune.com
Aakanksha N Bhardwaj
Tribune News Service
Jalandhar, August 1
Numerous protests outside schools, umpteen complaints, police intervention to calm down parents and even registration of cases regarding the fee issue in private schools have been observed in the state against the alleged private school mafia, with parents organising dharnas and approaching officials to get their problems solved.
The government had then intervened in the matter and formed a fee committee for the private unaided schools of Punjab that was led by Justice Amardutt Committee. Parents from all over Punjab approached the committee with the hope that their problems would be addressed.
Now, the Justice Amardutt Fee Committee has constituted the final report and has pointed out a total of 164 schools in the Doaba region where the fees increase was more than 15.5 per cent annually.
The names of the defaulter schools have also been included in the 372-page report.
The committee has made the report under various heads.
Under the head, 'Where fees increase is more than 15.5 per cent average, in Jalandhar district, a total of 60 schools are defaulters, of which, 23 are Central Board of School Education (CBSE)-affiliated schools, seven are affiliated to the Indian Certificate of Secondary Education (ICSE) and 30 are Punjab School Education Board (PSEB) schools.
Hoshiarpur has topped the list in the Doaba region with a total of 71 schools not abiding by the laws, of which 13 are CBSE schools, five ICSE and 53 PSEB schools. In Kapurthala, 17 CBSE, one ICSE and five PSEB schools have been found to be defaulters, whereas in SBS Nagar, 10 PSEB schools have been mentioned in the report.
Under another head, the committee has named the schools where the profit is more than 15 per cent and they are even directed to refund the fees. There are a total of 150 schools in Doaba that have been directed to refund the fees.
In Jalandhar, as many as 65 schools, in Kapurthala 33, in Hoshiarpur and SBS Nagar, a total of 46 and six schools have been told to refund the fees.
In its report, the committee has said that more than 6-15 per cent surplus generated has been held illegal and has been held amount to profiteering and also the schools where profits have been made by the sale of books and uniform and refund have been ordered to the schools.
Some other points that are written in the report are that the schools cannot compel the students to purchase books and uniform from a particular shop or school and it cannot ask for the admission fee from the already admitted students under admission/upgrade or any other name.