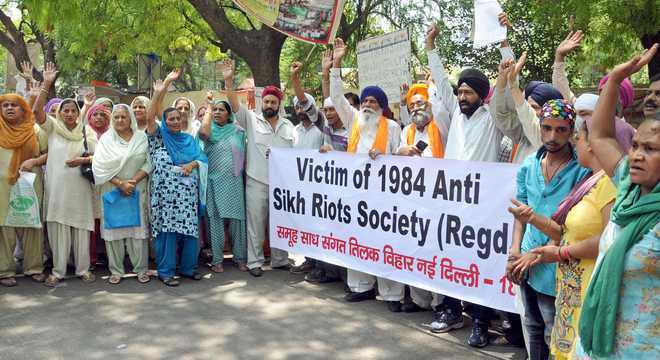 editorial@tribune.com
Satya Prakash
Tribune News Service
New Delhi, July 12
A new special investigation team (SIT) set up in January this year to further investigate 186 cases relating to the 1984 anti-Sikh riot cases in Delhi has failed to start its work, the Supreme Court was informed on Thursday.
The counsel for the petitioner who was instrumental in getting the order for a fresh SIT probe told a Bench, headed by Chief Justice of India Dipak Misra, that a member's position was vacant in the SIT, headed by former Delhi High Court judge SN Dhingra.
The SIT has yet to commence its work despite the court's order to submit its first report in August, the counsel told the Bench.
The CJI said he was aware of the matter and would look into it.The Centre had on February 5 told the court that former IPS officer Rajdeep Singh has refused to be a part of the new SIT and would be replaced by former Indian Police Bureau Director General of Police NR Wasan. Serving IPS officer Abhishek Dular is the third member.
Justice Dhingra was a trial judge when punishments were handed out in 1990s to the accused of the Trilokpuri massacre of 1984. Kishori Lal, dubbed as the 'butcher of Trilokpuri', was among those sentenced by him.
Almost 3,000 people were killed, most of them in Delhi, in the anti-Sikh riots that broke out following the assassination of then Prime Minister Indira Gandhi on October 31, 1984.
The Bench had in January noted that the previous SIT had not carried out further probe into these 186 cases in which closure reports were filed. It had taken the decision after perusing the report of a two-judge supervisory panel, which scrutinised 241 cases relating to the riots closed by an earlier SIT formed by the NDA government for re-investigation.
Re-probe process
Set up in January this year, Special Investigation Team was meant to submit its report in August
After coming to power in 2014, Modi Government had set up SIT headed by Pramod Asthana, an IPS officer, to re-probe 1984 anti-Sikh riot cases
SC in January noted that previous SIT had not carried out further probe into these 186 cases in which closure reports were filed
Top Stories