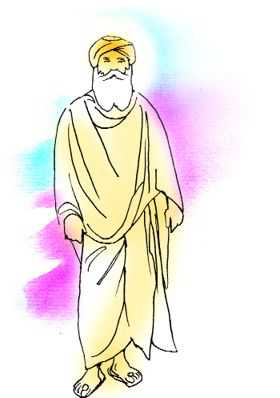 editorial@tribune.com
Gurnaaz Kaur
Guru Nanak Dev, the founder of Sikhism, is a true social reformer, a great spiritual leader, who preached the gospels of love, universal brotherhood and oneness of mankind. He travelled far and wide spreading the message of one God, who dwells in His creation. He was a poet, a mystic, a philosopher who denounced division on the basis of gender, caste, colour, religion or race. This revered master, whose teachings have a universal appeal even after centuries, has been written about by many.
As we gear up to celebrate the 550th birth anniversary of Guru Nanak Dev, we take a look at how has the silver screen taken inspiration to film his life and legacy.
Sense & sensitivity
The minute one thinks of movies on Baba Nanak, the names that come to mind are Nanak Naam Jahaz Hai and Nanak Shah Fakir. Maybe because the latter has seen many controversies and the former was the first major hit Punjabi film post-Independence.
In the 1970s and early '80s there were other films such as Man Jeete Jag jeet, Nanak Dukhia Sab Sansar, Sat Sri Akal, Dukh Bhanjan Tera Naam Ji, Ucha Dar Babe Nanak Da, which were commercial in nature and focused on incorporating the teachings of Guru Nanak. But that was decades ago. The number of releases on the first Guru of Sikhs has seen a steep plunge. But why?
"It's a sensitive subject and needs expertise and vision. You can't capture it from a commercial angle," says Harjeet Singh, who has directed critically acclaimed film, Eh Janam Tumhare Lekhe. In the film, he has attempted to capture aarti, written by Guru Nanak, through music.
Let's spread the word
Having seen most of the films on Guru Nanak, including Nanak Shah Fakir, he says, "There should be more films that revolve around the life and teachings of Guru Nanak." Back in 1992 Harjeet made a documentary, titled Ritu Raag on Guru Nanak's Bani Barah Mah (12 months). "The bani is so poetic and such magnificent. We just kept nature at its core and used stock images. Since the beginning, I have dreamt of making a film, Guru Nanak Di Rabab. I tried, but couldn't sell the idea. We took loan from bank, I started with the hope that I will be able to manage but it needs a team of likeminded people. Instead of looking at the shortcomings in the movies being made around him, we should understand that every effort will inspire others to delve deeper and bring out something more meaningful the next time."
Harinder Sikka, the producer of Nanak Shah Fakir, hasn't given up. After years of struggle, he has now released the film on YouTube because it must reach the masses. "It's not just a film; it's an epic, a journey, which was made with approvals of the Akal Takht and the SGPC. It has won three national awards and had screenings at Cannes, Los Angeles and Toronto."
Time to follow him
Talking about the guru's teachings, Sikka says, "Guru Nanak was a reformist. He was a scientist par excellence. He was against female infanticide. There is a dire need to spread his teachings. His main purpose was to bring everyone on one platform. We have forgotten all his principles."
Amardeep Ranghar, Singapore-based researcher, author and documentary filmmaker, is one of them.
After writing two books on Sikh legacy, he is now making a documentary on Guru Nanak's travels. Since the start of this year, he has been following the trail of Guru Nanak's travels in the 15th and 16th century. "The world has made documentary on historic characters but we have never tried to map Guru Nanak's journey. I am creating content for posterity. I chanced upon the idea during the research for my second book."
Bring the change
The reason why movies on Guru Nanak or any other guru don't run beyond a week is because no one really wants to understand what the gurus have taught. The mentality is to just cram and quote the verses. Wherever he went, he became one with the culture of that place. Do you see how adaptable he was? Then why are we so rigid? If we want to reach the youth, we need to bring a change in our thought process and show what they understand. Why can't we change as per the need of time?
Vikramjit Rooprai, historian & author
All readers are invited to post comments responsibly. Any messages with foul language or inciting hatred will be deleted. Comments with all capital letters will also be deleted. Readers are encouraged to flag the comments they feel are inappropriate. The views expressed in the Comments section are of the individuals writing the post. The Tribune does not endorse or support the views in these posts in any manner.