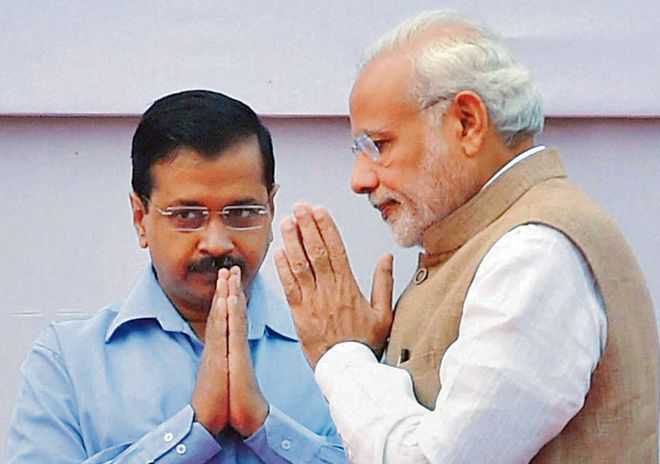 Arati R Jerath
Arati R Jerath
Senior journalist
The most remarkable fallout of Narendra Modi's return as Prime Minister for a second consecutive term is the taming of Delhi Chief Minister and Aam Aadmi Party's maverick boss Arvind Kejriwal. The man who thought he could leapfrog his way to the top by baiting Modi declared a silent truce once the poll outcome was known and turned over a new leaf.
After the poll result on May 21, virulent tweets and personal attacks that had become a hallmark of Kejriwal's anti-Modi politics ceased. Next, he sought a meeting with the PM to personally congratulate him and offer cooperation. He was one of the few non-BJP leaders to express confidence in Modi's ability to arrest the economic slowdown. And on Lal Bahadur Shastri's birth anniversary on October 2, he made a show of camaraderie with his erstwhile opponent, captured eloquently on camera for all to see, at the late Prime Minister's samadhi.
But the big turnaround, which stunned his friends in the Opposition and sealed his newfound bonhomie with Modi, was AAP's support in the Rajya Sabha to the contentious Bills withdrawing Article 370 from Jammu and Kashmir and downgrading the state into two union territories. The decision knocked the bottom out of Kejriwal's core agenda of full statehood for Delhi. But he probably decided that at this juncture, it's smart politics to make peace with Modi in his moment of triumph than pursue an impossible dream.
The returns on the change of strategy are already visible. Modi sent Kejriwal a happy birthday letter for the first time this year when the Delhi CM turned 51. It set off an exchange of friendly tweets that had political circles rubbing their eyes in astonishment. Another first was the speed with which the Central government cleared Delhi's proposal for water conservation in the Yamuna floodplains, a sign of the new cooperation movement between Modi and Kejriwal.
Of course, it's not all hunky-dory. The Modi government has just denied permission to Kejriwal to attend a climate change conference in Copenhagen where he had hoped to showcase his success in cleaning Delhi's air. Significantly, the CM has not criticised the Centre.
Kejriwal is holding his breath for the main dividend he's seeking from his move to extend the olive branch to the man he once blasted as "a coward and a psychopath." He's hoping that by removing Modi from his line of fire, he can lower the pitch of the Delhi Assembly elections, due in February 2020, and spin his campaign around local issues.
After AAP's decimation in Delhi in the Lok Sabha polls, he has understood that it's a no-contest if he pits himself against Modi. AAP's performance was so dismal in those polls that it fared even worse than the Congress. The BJP got 56.58 per cent of the votes in the Capital, the Congress won 22.46 per cent. AAP's vote share shrunk to 18 per cent, a fall of approximately 15 per cent from 2014. It slipped to the third position in five of the city's seven constituencies, with three candidates losing their deposits. The results were an eye-opener for Kejriwal, who has treated Delhi as his fiefdom after he swept 67 of the 70 Assembly seats in the 2015 state elections.
Should the BJP decide to use Modi's firepower in Delhi and ride on a nationalist sentiment, as it is doing in this month's Maharashtra and Haryana polls, Kejriwal knows that he could fall by the wayside and it would bring down the curtain on his political career. His best hope for staying in the ring is to craft a Delhi-specific narrative and pitch his governance record. He certainly has successes to boast of, particularly in the field of education and health and providing civic amenities, like electricity and water, free of cost for the poor.
It is interesting that while the BJP is neck deep in preparations for the Maharashtra and Haryana elections and is simultaneously planning its strategy for polls in West Bengal although they are not due till April 2021, it's been lackadaisical about Delhi where the voting day is less than six months away.
Amit Shah has held a couple of meetings with his Delhi leaders but not said much, except to warn them to settle their differences. The BJP's Delhi unit is cripplingly faction-ridden and has been so for many years. It also has the most uninspiring leaders of all state units. But till date, Shah has shown little interest in putting his Delhi house in order.
The BJP's lack of preparedness has given Kejriwal the first-off-the-mark advantage. The city is already plastered with hoardings and posters sporting his face and listing his achievements. To buttress his image of good governance, he's also announced plans to re-introduce the odd-even rotation of vehicles to tackle pollution during the winter months.
For someone who was in a hurry to be PM, Kejriwal has visibly downsized his ambitions. It's a pragmatic move. The 2019 verdict has given Modi an aura of invincibility that is going to be difficult to puncture at this point of time. The post-Balakot surge in Hindu nationalism has only been strengthened by the developments in Kashmir and Pakistan premier Imran Khan's threats from across the border.
While the Congress is still scrambling to find a response to the national mood, Kejriwal proved how swift his political reflexes are by siding with the Modi government on the reading down of Article 370. He is hoping that his support will neutralise the BJP's nationalism plank in Delhi.
Kejriwal has undoubtedly put the BJP on the defensive with his aggressive and unexpected moves since the 2019 elections. If his strategy succeeds and the Delhi Assembly poll becomes a local choice, Modi may reserve his energies for bigger battles ahead, like storming Mamata Banerjee's West Bengal bastion in 2021. After all, Delhi is a glorified state where the Chief Minister has no real powers. The two key levers of power — land and police — are in the hands of the Central government presently headed by Modi. Kejriwal would then have the satisfaction of having created a level playing field for himself, whatever may be the outcome.