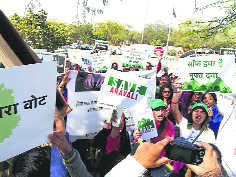 editorial@tribune.com
Tribune News Service
Faridabad, March 1
Social activists and lovers of the environment will launch a drive to oppose the recent amendment in the Punjab Land Preservation Act (PLPA) for allowing non-forest activities in protected Aravalli areas.
"Despite the Supreme Court putting on hold the recent PLPA amendment, we will file a public interest litigation in the apex court," said Jitender Bhadana of the NGO Save Aravalli.
He said there was a need for concerted efforts to further strengthen protection to the green cover of the Aravallis in Faridabad and Gurugram. Welcoming the decision of the apex court, social activist Varun Sheokand stated that they planned to file a petition against the PLPA amendment.
He said a demonstration would be organised on the Surajkund road on Sunday. He alleged that hundreds of acres of forest land had been occupied or come under illegal construction in the Surajkund area.
He said action had not been taken against owners of over 100 illegally built farmhouses and banquet halls. He claimed that two senior officials had been shifted for their stand against such construction.
Lawyer LN Parasher asserted that a public interest litigation would be filed in the Supreme Court. He said the amendment was an onslaught on the right to fresh air as the Aravallis were the lungs of the NCR.
New Delhi: The Supreme Court's stay was welcomed by activists and environmentalists fighting to protect the ecologically fragile zone.
Chetan Agarwal said it was sad that Manohar Lal Khattar government was willing to sacrifice 75,000 acres — "one-third of the total forest land in the state" — to protect a few hundred acres of builders.
Environmentalists said the law would have "only helped real estate developers and mining companies plunder the ecologically fragile zone".
It would have not only proved disastrous for the environment and ecology of the Aravallis, but also accelerated desertification of the entire Delhi-NCR region, they claimed.
Cities