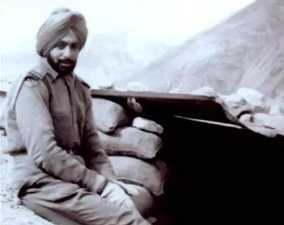 shriaya.dutt@tribuneindia.com
Tribune Web Desk
Chandigarh, October 10
Punjab Chief Minister Captain Amarinder Singh on Thursday got nostalgic remembering his days in the Army. On National Post Day, Captain thanked India Post Office for their services.
In a tweet, Captain gave a "salute" to India Post Office. He revealed how receiving a letter from home, used to be his driving force. Along with a heartfelt note, he shared a picture of himself in his uniform.
In the black and white picture, Captain can be seen sitting near a bunker.
He wrote: "Nothing can beat the feeling of receiving a letter from home in the army! It used to be our driving force during my army days & these letters brought both tears & smiles. I salute @IndiaPostOffice for their service to the nation & thank them for the memories. #NationalPostDay."
Nothing can beat the feeling of receiving a letter from home in the army! It used to be our driving force during my army days & these letters brought both tears & smiles.

I salute @IndiaPostOffice for their service to the nation & thank them for the memories.#NationalPostDay pic.twitter.com/W7NZ71aTiy

— Capt.Amarinder Singh (@capt_amarinder) October 10, 2019
Twitter reactions:
Every Indian proud of our army

— Pranavh (@vallabhaneni7) October 10, 2019
Capt sir, you are great personality... A good statesman...

— ꜱʜᴀɪʟᴇꜱʜ 🇮🇳 (@SMalkania) October 10, 2019
Respect 🙏

— Anjali_94 (@LSoul28) October 10, 2019
Now such Soul effect is missing in computerised world

— Twoshar (@Twoshar1) October 10, 2019
Fantastic days to remember..

— uurpan (@uurpan1) October 10, 2019