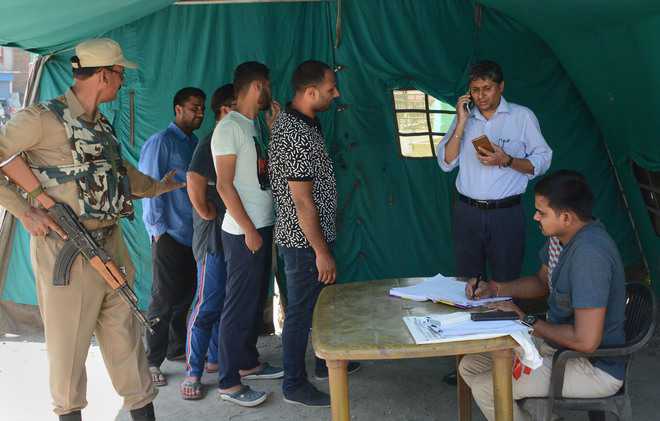 editorial@tribune.com
Rifat Mohidin
Tribune News Service
Srinagar, September 11
Muneera Bhat, 39, goes to a newly opened public calling office (PCO) every evening to talk to her son who is pursuing his studies in Bengaluru to check his well-being as the communication blockade in Kashmir continues to be in place even after a month has passed after the abrogation of Article 370 on August 5.
After the landline phones were restored in Kashmir, particularly in Srinagar city after August 20, many PCOs that had been long closed, are now back in action offering people a facility to call their kith and kin residing in and outside the state.
"I am relieved that I am able to call my son. We don't have a landline phone at home. We had closed it years ago. However, this time I feel anxious if I am not able to talk to my son who studies outside. PCOs in such a situation have come to rescue of people like me," said Muneera, a resident of Raj Bagh.
In Srinagar's Raj Bagh, Jawahar Nagar and Gogji Bagh, many PCOs are offering STD service and people queue up in the evening to make calls. According to the government, almost all landline phones have been restored in the Valley. Earlier, there was a single facility that was opened at the Deputy Commissioner's office in Srinagar that facilitated people to make national and international calls.
After the introduction of mobile connectivity in Kashmir years ago, many people disconnected their landline phones as they were not of much use.
In almost all city localities, PCOs have been opened by shop owners to help people. The owners say the PCOs have not been started as a way of earning but to facilitate people who do not have landline phones at home.
"It is a difficult time in Kashmir and not everyone has access to landline phones. It is just to help them. We charge a nominal price," said a PCO owner in Raj Bagh.
In some localities where landline phones have been restored, people have pasted posters outside their houses offering free calling service for those in need. The government is yet to make it clear when mobile connectivity and Internet will be restored in Kashmir.
Cities