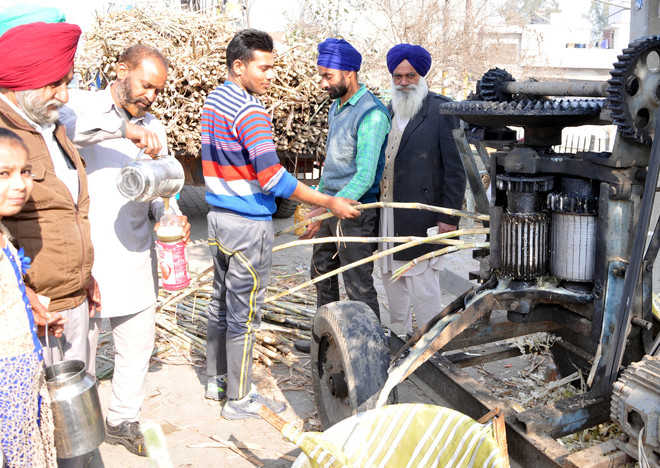 Tribune News Service
Amritsar, January 13
Continuing with the tradition, residents made a beeline at stalls selling sugarcane juice (rauh), used to cook 'Rauh di Kheer' even as it touched the highest price of Rs 30 per litre today. Usually sold at a marginal price of Rs 10 per litre, the sugarcane juice was a hot commodity on Lohri festival as most families preferred to cook the traditional dish.
The tradition of cooking 'kheer' is well documented in Punjabi literature. The old saying 'Poh ridhi, Magh khadi' is popular even now. The saying is true to nature of the tradition as per which 'kheer' is cooked on last day of Punjabi calendar month 'Poh' and eaten on first day of month 'Magh'. As per Punjabi calendar, 'Magh' marks the end of winters and beginning of summers in the region.
Long queues of residents at sugarcane juice stalls specially set up by farmers and its high price shows that the Punjabis are still continuing their tradition with enthusiasm.
A farmer from Bakna, Joginder Singh said, "We have brought two trailers of sugarcane. We will be able to sell all juice before evening as the demand is high." He said earlier, many residents could not cook kheer as they failed to get sugarcane juice. "Now, there is no shortage as from the past few years many farmers come to the city to sell cane juice."
A senior citizen Gurdial Singh said, "We as children used to wait for the day as the sweet dish was served cold in the morning. Nowadays the younger generation does not know the old recipes, but still many have kept the tradition alive."
He said children preferred to celebrate Lohri by flying kites, but bonfires and kheer were still a part of the custom for the elder generation.
'Rauh di kheer' is an old dish in which rice are cooked in the sugarcane juice. The dish is prepared in the evening and kept to cool. It is served cold next morning with red-chilly mixed curd.
Top Stories