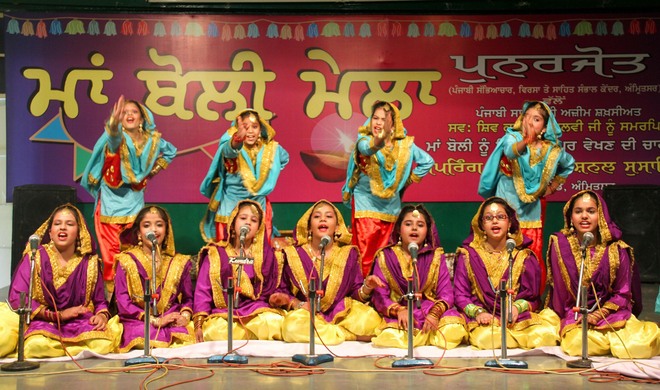 Tribune News Service
Amritsar, October 29
Over 148 students from 17 CBSE schools in the city took part in the Maa Boli Mela organised by Punarjyot and Spring Dale Senior School here today.
Maa Boli Mela is being hosted under the aegis of Amritsar Sahodaya School Complex in which students from different CBSE Schools participate in various competitions and workshops. Students competed in five different events, including speech competition, quiz, calligraphy and poetry recitation, and kept the audience spell bound for three hours. As per the tradition, host Spring Dale Senior School did not compete to give a fair chance to all the teams participating in the event.
Davinder International Public School, Bhalla village, won the first prize in debate competition, Sri Guru Harkrishan Public School, Majitha byepass, bagged the first prize in poetry recitation and Sri Guru Harkrishan Public School, Patti, was placed first in quiz and calligraphy competition. Tributes were paid to a legendary figure, Shiv Kumar Batalvi, with special emphasis on the recitation of his melodious poetry so that his Punjabi verse reached every one present on the occasion.
The annual Maa Boli Mela is dedicated to the memory of Dr Shivinder Singh Sandhu and Manveen Sandhu, who devoted their life for the promotion of Punjabi culture. Their love for the Punjabi culture played a vital role in the foundation of Punarjyot, which enables people to explore all the possible avenues of mother tongue, besides conserving and promoting culture.
A seminar was also organised to make the participants aware about the use of Punjabi Wikipedia and how to add digital content to it and the internet.
School director, Dr Kirat Sandhu Cheema, who is also director of Punarjyot, reiterated her commitment to promote Punjabi culture. Managing trustee Sahiljit Singh Sandhu said Spring Dale Senior School always stood for the good causes. He also thanked the participating teams for their overwhelming response to Maa Boli Mela.