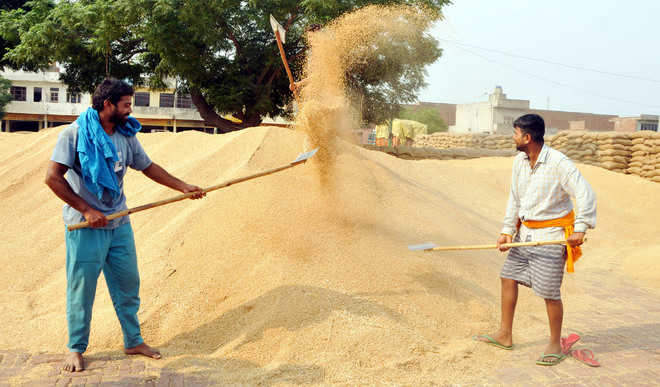 Tribune News Service
Amritsar, May 25
With the last day for the procurement of wheat by government procurement agencies today,
A total of 6,52,877 metric tonnes (MT) of wheat have been procured by the government procurement agencies. The last day for procurement was Saturday.
Officials said the produce arrived till date had been purchased and payment for almost 94 per cent of the crop had been made to farmers.
Deputy Commissioner (DC) Shivdular Singh said 5,85,746 metric tonnes of the purchased produce was lifted from markets and the remaining would be lifted next week. He said Rs 1083.74 crore had been paid to the farmers for their produce. He added that the remaining amount would be cleared within a few days.
Food and Civil Supplies Controller Lakhwinder Singh said a maximum of 1.36 lakh metric tonnes had been procured by Markfed followed by Pungrain which procured 1.31 lakh MT. The government agency, Punsup, procured 1,00,026 MT, followed by Punjab Agro which purchased 77,805-MT wheat. The Punjab State Warehouse Corporation has purchased 76,300-MT wheat. The Food Corporation of India purchased 1,09,635 MT of wheat while 21,120 MT of wheat was purchased by private players.
District Mandi Officer Jaswinder Singh said most of the produce from fields had arrived in markets till May 15. After that, the crop arrival process had slowed gradually. He said though the procurement season was officially ended on Saturday, in case anyone wants to bring crop for sale, he can contact mandi board officials.