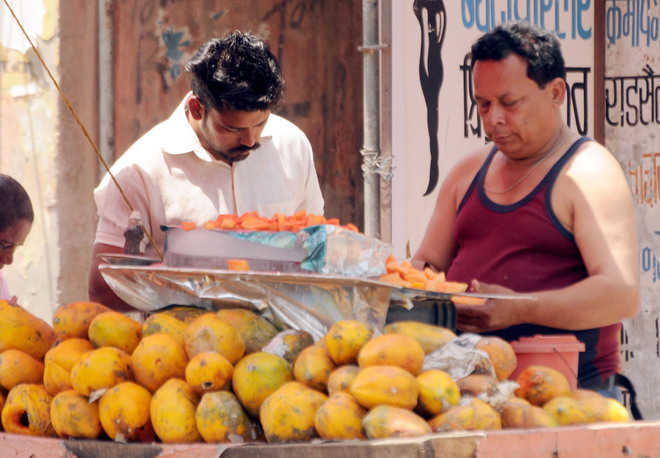 Neeraj Bagga
Tribune News Service
Amritsar, April 24
Summer season bids arrival of succulent fruit of varied sizes and taste to beat the heat. Fresh fruits having natural flavor and taste are liked by everyone. However, in order to meet the customer demand traders resort to unhealthy practices like using chemicals for artificial ripening of fruits. It causes evil effects on the health of the consumers.
Sanjay Budhiraj, former chief executive officer, Council for Value Added Horticulture, said packhouses, wherein fruits are ripened at cold stores using ethylene gas under the controlled temperature of 15 degree Celsius, serve an important purpose of natural ripening of fruit through scientific method. The city with a population of about fifteen lakhs and high floating population require a large quantity of fruit, he said. Therefore, the consumption of fruit is high but fruits like papaya, banana, apple and others are sold after using crude chemical calcium carbide (CaC2) popularly known as 'masala' for artificially ripening them.
Majority of fruit merchants use the cheapest form of (CaC2). The chemical compound has the traces of impurities of poisonous carcinogenic compounds of arsenic and phosphorous hydride.
Principal Kulwant Singh Ankhi, a retired school, said the use of calcium carbide for ripening of fruits is banned under Prevention of Food Adulteration (PFA) Rules, 1955 and also under Food Safety and Standards (Prohibition and Restrictions on sales) Regulation, 2011. Calcium carbide when reacts with water produces acetylene gas which quickens the ripening process but the fruits ripened using this method lack in taste and flavour. He said being cheap and easily available in the market, calcium carbide is rampantly being used in preference to other recommended practices of ripening fruits.
Due to hazardous effects on human health use of calcium carbide is completely banned in many states of the country.
Officials at the Punjab Mandi Board said the board established fruit ripening plants at many districts of the state and in future one would be established here as well.