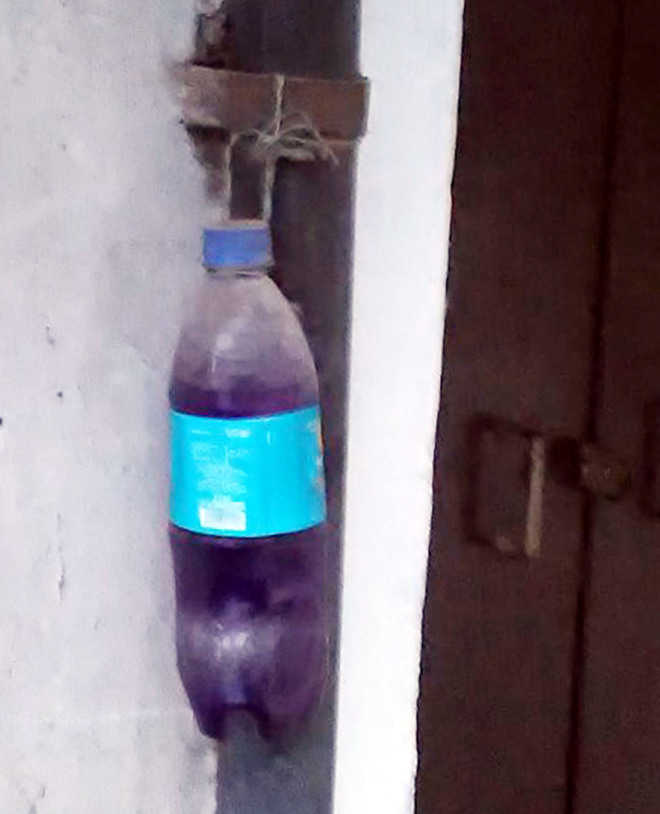 Divya Sharma
Tribune News Service
Amritsar, January 4
Residents have come up with their own way to keep areas outside their houses clean, especially from dog faeces. People in certain areas of the city believe that by hanging plastic bottles filled with blue coloured water shall shoo away dogs from their doorsteps. Blue laundry pigment (known as 'neel') is added to water after which it is poured in a plastic bottle to hang at the main entrance of the house.
Strangely, a number of people can be seen following it to prevent dogs pooping outside their residence. The sight is common in areas such as areas at Taran Taran Road, Majitha Road, a few areas of Sultanwind road among others.
Manish Abrol, a resident, said, "I first saw this in Sultanwind and asked people about it. I just wanted to try this. It has worked for me. The area outside my house is clean. Dogs have not come near my house. So far, I can vouch for this popular arrangement." He has been doing this for two weeks.
Another city resident, Nirmal Singh of a colony at Taran Taran road, said, "I have a blue-coloured water in a bottle hung at the entrance of my house for the past two months. I saw bottles hanged at one of the intersections in the city. It has worked."
However, there are many say such a trend shouldn't be followed. Sandeep Kurl, a resident, said, "People these days blindly follow whatever they come across. Being educated, one should not promote any such belief."
This trend picked up in a number of cities across the country, especially in West Bengal, a few years ago. Though no one knows where did it originate from, most of the people have got to know about it through internet. Vet experts have often said that there is no scientific explanation to it, but dogs may be scared of the blue reflection, or they don't like the smell of the neel water.
Top News
Russian President vows to protect newly annexed Donetsk, Luh...
It is 80-year-old former 9-term MLA and a 3-term MP Kharge v...
Stated that 'no one does such things on purpose' and added t...
There is a heated argument between MLA Sukhpal Khaira and Sp...
After the first referendum, both countries have issued trave...