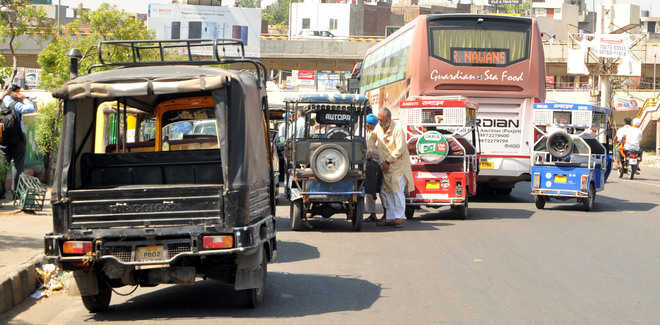 Neeraj Bagga
Tribune News Service
Amritsar, June 8
Due to parking of AC buses by influential private operators on the main approach road of the Bhandari railway overbrige (ROB), the traffic continues to remain disrupted. Sometimes, they also park buses in the abandoned 'sabji mandi' (vegetable market) to pick and drop passengers. The approach road leads to the Hall Gate which further leads to the Golden Temple.
Residents often question the "selective" attitude of the law enforcement agencies which hardly action against the errants. Operators of private luxury buses seem to enjoy special treatment being meted out to them as drivers of other vehicles are penalised for wrong parking.
A few buses can be seen stationed on Bhandari Bridge, which is considered lifeline of the city, which witnesses heavy traffic throughout the day.
Sometimes, even the newly-constructed road in old sabzi mandi is used for parking buses by private transporters.
A local resident, Rawinder Singh, said the rules are same for everybody. If a car driver is not allowed to park his vehicle on a road, then parking of buses, which are much bigger and lead to traffic snarls, should also be taken care of, he said, adding that traffic police often failed to take action against such transporters for reasons best known to them.
Another city resident, Jaspal Singh, said he noticed luxury buses stationed on the ROB for picking and dropping passengers for most of the time every day. "It seemed that private operators are utilising the main road as their personal bus stand. During their halt, a major portion of the road gets blocked due to autos and rickshaws, which took stop near the buses in search of passengers, further congesting the road," he added.
MC Commissioner Harbir Singh said parking of buses on the Bhandari Bridge should be taken care of by the traffic police. "If somebody is using the abandoned ''sabji mandi'' land, I will get it verified," he said.
Traffic police Inspector Chajju Ram, in-charge, Bhandari ROB, said he joined the area two months ago and observed the problem of stationed luxury buses. "Upon enquiry, I found that the buses have been taking up such a practice for years. In case, the MC terms parking of buses here illegal and writes to the police, I will not allow them," he added.