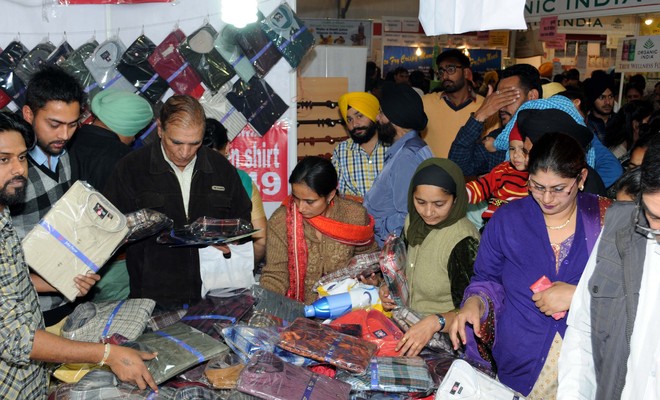 Neha saini
Tribune News service
Amritsar, December 6
The allure of Punjab International Trade Expo 2015 (PITEX 2015) for Amritsaris refuses to die as they thronged the global exhibition at Ranjit Avenue in hordes on Sunday. The international exhibition is always high on cultural and business exchange. This time, the addition of stalls has proved the popularity of PITEX in the city. With 450 odd stalls, there is reported increase of 10 to15 percent of business.
The most popular stalls as always has been were those of Pakistani businessmen. As many as 250 Pakistanis, including the 140 stalls showcasing Pakistani cotton, embroidered fabric material, silver filigree footwear and onyx stone handicrafts, attracted maximum visitors. The everlasting love with Pakistani suits continues to generate business and build people-to-people relations. The stall owners, who came from across Afghanistan, Egypt and Iran, treated the Amritsaris with their goodies, besides their culture. "It's always a pleasure to come to PITEX in Amritsar. We have become regulars since 2011. We have been able to build a network of local buyers, who continue to place orders through online transactions," said a stall owner from Afghanistan, who came with a bagful of exotic spices and herbs.
The handicrafts from Nepal and Pakistan were an instant hit with buyers, with Onyx stone and wood craft items being the most popular. With the dawn of winter season, Pashmina and woolen fabrics from Pakistan too impressed buyers.
Shiekh Muhammed Arshad, president, Lahore Chamber of Commerce, said, "Pakistani textiles are popular in Indian market. This time a number of manufacturers have directly put up stalls for better response. Pakistani cotton and other fabrics have a huge market in India and are regularly exported. This will establish a direct consumer-seller channel as buyers will now get more variety at better cost."
Naveen K Seth, director (fair), PHD Chamber of Commerce, said the response was tremendous over the past two-three editions. He said "The footfall is good, the business has increased and we have now added to list of consumer services. It's a positive sign for years to come."
Foodies had a gala time as they savoured best of delicacies from both sides of the border. Warsi Foods from Lahore, an all time favourite with visitors at PITEX, now once again had a lavish menu with kakori kebabs and delicacies from Lahore's food street. Among Indian vegetarian spread, Rajasthan and Delhi food street were popular choices.
Top News
The 58-year-old OBC leader served as minister for higher edu...
Article 370 was a temporary provision, says CJI as Bench pro...
The Supreme Court, in its judgement on Monday, supports the ...
In a series of posts on X, Shah, the architect of the entire...
The Lok Sabha Secretariat last Friday issued a notification ...