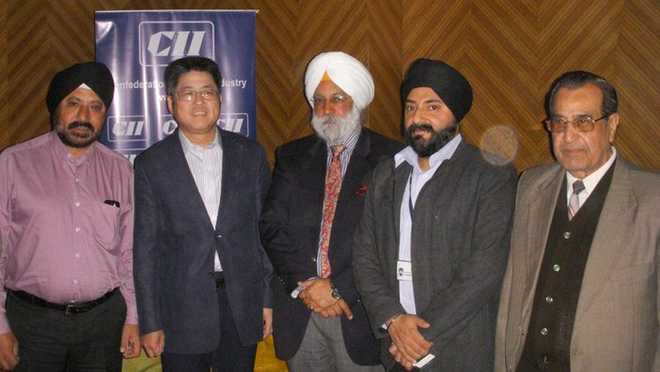 Tribune News Service
Amritsar, March 14
Chinese government was working on ways to relax the norms for the business visa, which would further boost the people to people contact, said Le Yucheng, Ambassador of People's Republic of China to India, during a meeting with the delegation of Confederation of Indian Industry (CII).
A CII press release here today stated that the delegation, led by Gurpreet Singh Munjral, chairman, CII Amritsar Zonal Council, interacted with the Ambassador last evening, who wrapped up his two-day visit to the holy city.
Munjral said the Chinese Ambassador stressed on the importance of technology and its innovation in the renewable energy field. Le said, "There is a need to harness the huge potential of renewable energy through the development of new technologies and their application to society."
Munjral highlighted the need to expand bilateral cooperation in the fields of textile, science and technology, culture and among people of both the countries. He said, "If cooperation in these fields expands, this will automatically lead to an expansion in bilateral trade and investment."
He emphasised that some of the other areas that the two countries could cooperate, include agriculture, food processing and SME development.
Speaking on the occasion, Gunbir Singh, former chairman of the CII Punjab State Council, said,"China and India are mammoth in size and stature, and share similar potential. It is in our mutual interest that we engage commercially for the benefit of our people. We support wholeheartedly the resumption of the Silk Route proposed by the Chinese president, and feel that rail and road corridors from China through Pakistan, should find natural connect with the proposed eastern freight corridor at Wagah Trade post."
He said, "This will ensure cost effective transportation of goods between the two Asian giants and provide access throughout the Asian continent." He further stressed on the need for direct flight from Amritsar to China.
Top Stories