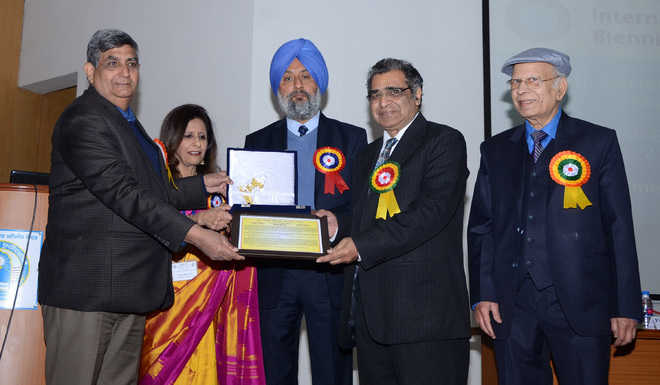 Tribune News Service
Amritsar, February 2
A three-day 14th biennial conference on Industrial and Applied Mathematics was inaugurated at the auditorium of Sri Guru Granth Sahib Bhawan at Guru Nanak Dev University (GNDU) here today. The conference is being jointly organised by the GNDU and the Indian Society of Industrial and Applied Mathematics (ISIAM).
Prof Kamaljit Singh, Dean, Academic Affairs, GNDU, presided over the inaugural session of the conference. He highlighted the salient features and achievements of the university. "This is a great opportunity to learn something new. All facilities will be provided by the university to organise such conferences to strengthen the knowledge of students and faculty in future as well," he said.
Prof BS Panwar, Vice-Chancellor of Sharda University and a distinguished professor of electrical engineering and communication, was the chief guest. He emphasised on the application of mathematics in diverse fields of vital importance. Prof AH Siddiqi, president of the ISIAM, highlighted the importance of mathematics in solving the real world problems such as prediction of earthquake, tsunami, epilepsy, heart attack etc.
Organising secretary, Prof Pammy Manchanda, head of department of mathematics, GNDU, welcomed the chief guest and others. In the various technical sessions chaired by Prof NK Gupta, an eminent scholar of applied mathematics, experts such as Prof GDV Gowda, Prof S Jaffard and Prof M Shahajahan, Prof AK Pani, Prof Samares Pal, Prof D Chaturvedi, Dr Ashish and Sana Arif delivered their research lectures.
A book on industrial mathematics and complex system edited by Prof Pammy Manchanda, Prof AH Siddiqi and Prof Rene Lezi was also released on this occasion. The delegates also enjoyed a cultural programme by the students of BBK DAV College for Women depicting rich culture of Punjab.
Top News
Court of Inquiry ordered to ascertain the cause of accident
Punjab MP was suspended on August 11
Chennai airport operations suspended from 9.40 am to 11 pm
BJP won Palak and Saiha seats