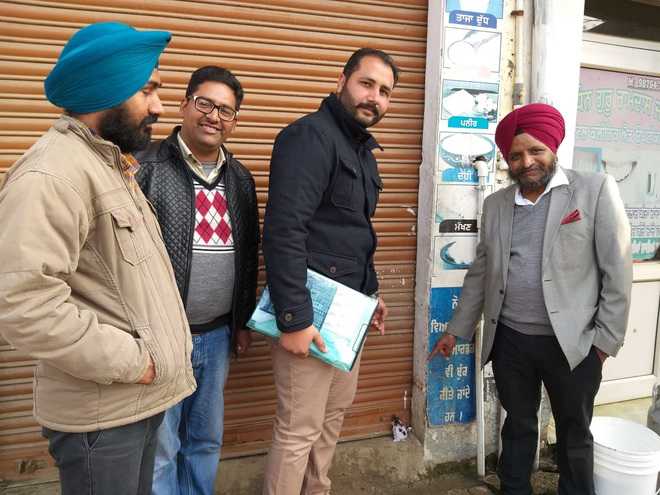 Manmeet Singh Gill
Tribune News Service
Amritsar, December 27
In a major success, the food wing of the Health Department caught a dairy owner red-handed while making synthetic milk during a raid at his shop at Makhu road in Harike, Tarn Taran, here on Thursday.
The team also destroyed around 300 litre of synthetic milk found at Tarsem Dairy being run by Tarsem Singh. Officials said Tarsem Singh used to manufacture around 1,500 litre of milk daily and supplied it to retail shops as far as Ludhiana.
The team also recovered ingredients used for making synthetic milk, which included maltose powder, refined oil and BR (a wax-like product) from the shop.
District Health Officer Dr Lakhbir Singh Bhagowalia, who led the surprise check, said, "As explained by Tarsem later, he used water, maltose powder, BR, refined oil and a little quantity of natural milk to make the product."
He said the officials seized 200 kg of maltose powder with Maltodex written on the bags, five kg of BR and four litre of refined oil from the shop. The synthetic milk was destroyed later.
Bhagowalia said they collected six samples of synthetic milk, one sample each of ingredients and sent the same to a food testing lab for checking. The dairy shop has been sealed for now. The department will take further action upon receiving the test reports.
Acting on the information provided by Tarsem regarding his customers, the health officials also conducted surprise checks at Baldev Dairy and the residence of one Sahib Singh of Harike. They are said to have been main buyers of synthetic milk. Bhagowalia said they have taken samples of milk from both the places and informed the higher-ups about the case.
Top News
The search operation turns into an encounter after the terro...
The judgment was reserved less than a fortnight back by the ...
Police have not disclosed the identity of the deceased but s...
RJD says new alliance to oppose BJP's 'divisive agenda' | BJ...
The education dept orders an inquiry