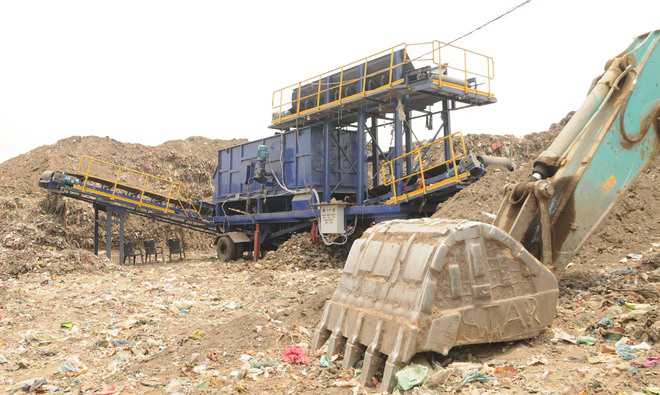 Charanjit Singh Teja
Tribune News Service
Amritsar, June 5
The Municipal Corporation (MC) has started the process of bioremediation of garbage at the old dumping ground on Chabal Road. The MC used to dump the garbage here before shifting it to Bhagtanwala.
The dumping ground, which was used for several decades, spans over an area of around eight and half acres.
The MC officials said they have been treating waste by segregation of the garbage. With the bio-treatment, the garbage will be turned into manure. The officials claimed that the manure would be good for the crops and MC will sell it to farmers.
Dr Raju Chowan, Health Officer, Municipal Corporation, said," The trimble machines have been arranged by the company hired for the waste management. The machines automatically segregate the plastic, debris, soil and manure. The decades-old garbage will now get decomposed." The MC has targeted to remove all the garbage within two months from the dumping ground.
"This chunk of land at Chabbal road is worth of crores. It is on prime location. We will remove the garbage and level the land," added Chowan.
The MC officials claimed that after completing the task at Chabbal road the same tremble machines would deployed on the Bhagtanwala dump.
"We will wait for the mansoon to install machines at Bhagtanwala. Otherwise the dry garbage will stink and create dust during bio-remediation process", added Dr Chowan.
Top News
The network, which operated in the darknet and used cryptocu...
Railway Board has recommended for Central Bureau of Investig...
Amid pro-Khalistan sloganeering, the 39th anniversary of Ope...
Focus on ways to expand bilateral defence and strategic ties
Officials said police are collecting evidence in connection ...