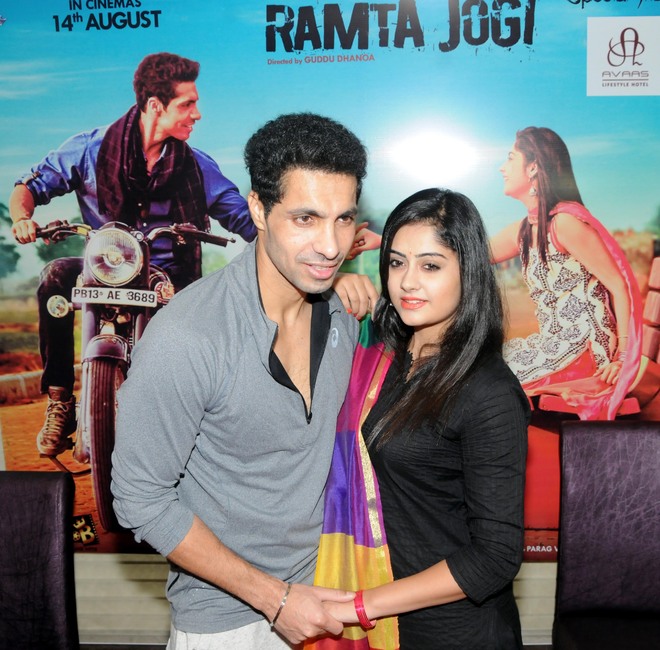 Tribune News Service
Amritsar, August 9
"New faces in the Punjabi film industry have given the audience another reason to go to silver screens every Friday," said young actor Deep Sidhu while promoting his upcoming film 'Ramta Jogi'.
Sidhu, who is making a debut with the Punjabi romantic film this Friday, was in Amritsar along with his debutante co-star Ronica Singh. Vijayta Films and Guddu Dhanoa are presenting the film.
Guddu is known to introduce new faces in the industry.
The star cast is on a promotional tour and the both leading stars of the movie interacted with the media. "For most actors aspiring for a film debut, the banner and director are quite crucial. And I feel lucky to work with such a great team, including Guddu Dhanoa, and be a part of my home film industry. I am looking forward to an adventurous journey through my acting career," said Deep.
Actress Ronica Singh is all excited about her debut as well and is enjoying her place under the spotlight already.
She said: "I have always dreamt of being known everywhere I go. With 'Ramta Jogi', Guddu sir is giving us such a recognition that is tough to get with the very first project. The story will connect to audiences' heart and I am happy to promote it today."
Producer Vijay Singh Dhanoa too seemed confident that the young actors would definitely click with the audience and the film would find a good response.
"We all are a big family making this film and the audience will love it. The story actually connects to every age group and the message is full of love,' he said.
The film has been mentored by Bollywood stars Dharmendra, Sunny Deol and Bobby Deol.
"It was really wonderful to interact with such senior and accomplished actors and get a word of advice from them," said Deep.
The story and screenplay of 'Ramta Jogi' have been penned by Santosh Dhanoa. Director Guddu himself would be seen acting in the film. Other actors in the film include Rahul Dev, Zafar Dhillon, Girish Sahdev and Anil Grover, who is also the chief assistant director of the movie. It has been shot in Mumbai and Punjab. Summing up the efforts of everyone involved in the film, Guddu said: "Acting in the film was a new feeling for me. Also, I want to share that I got a superb team to work with. All actors are experts in themselves and know their job well. Each character of the film has been given his space well and the script has got a good balance. Being a director, it was easy for me to execute the film because of a well-written script."