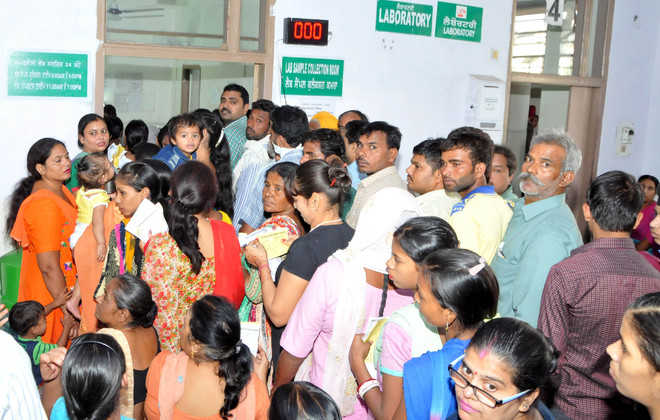 Tribune News Service
Amritsar, October 22
While the government has made dengue tests free of cost at government health facilities, on the other hand the sole diagnosis facility in the government sector competent to conduct the test is facing shortage of the test kits.
However, the health authorities refuted the allegations stating that they had procured five kits from Chandigarh and supplied these to the lab at Government Medical College. The authorities also stated that they had procured two kits from Faridkot day before yesterday.
However, patients at the Jallianwala Bagh Martyrs Memorial Civil Hospital regretted that they are being told to collect the reports after seven days. Dwarka Das, who had came along with his son, Gaurav Kumar said, "The employees have asked us to collect the reports after seven days. What shall we do till then?" The samples of dengue patients collected at all government health facilities in the district are sent to Government Medical College for testing.
Another visitor, Harbajan Singh, who had came along with his wife, Balwinder Kaur, from Gate Hakima, said, "We had come early in the morning. The rush of patients is so much that patients have to wait for hours to give their samples. He said in view of the rush, more sample-collection countres should be set up.
RTI activist Ravinder Sultanwind complained, "I had gone along with one of my relatives to get the test conducted from the GMC, but the employees are giving seven days' time to collect the reports." He complained that usually the dengue fever remains for five to eight days and there is no purpose served if the patient gets the report on the seventh day.
Civil Surgeon Dr Pardeep Chawla said, "There is no shortage of testing kits. As soon as we get a demand from the GMC Lab, we procure and supply the kits." Each kit can be used to conduct tests of 96 patients, said Dr Chawla. He said he would inquire as to who is misguiding the patients. To a query that instead of procuring two or five kits, why don't they manage more kits as the number of dengue patients has already crossed 1,023, he said, "We would ask the senior authorities to supply more kits, but so far we have not allowed the shortage to affect the public facility."